Portland Trail Blazers guard Damian Lillard on Forbes 30 under 30 list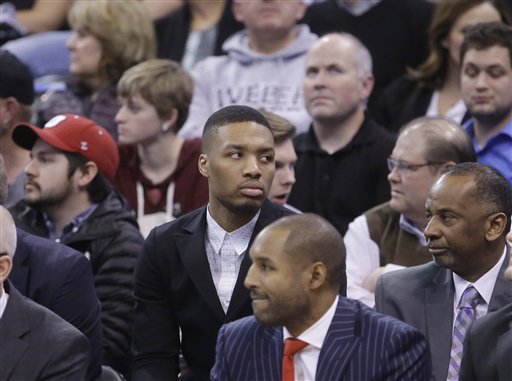 Portland Trail Blazers guard Damian Lillard is likely to make his return to the court, after missing two weeks with plantar fasciitis in his left foot, Monday when his team takes on the Memphis Grizzlies at the Moda Center.
But that wasn't the only good thing to happen to the Blazers All-Star guard in the first full week of 2016. Lillard was one of three NBA players in the sports category of Forbes Magazine's 30 under 30 list for 2016. Golden State Warriors guard Stephen Curry, the 2015 NBA MVP and AP Male Athlete of the Year, headlined the list. Oklahoma City Thunder guard Russell Westbrook was also included in the 30 under 30 list. Of the three, Lillard is the youngest on the list.
Here's the little Forbes blurb on Lillard
Lillard wears the number zero as an "O" for his hometown Oakland, California, and he was drafted sixth overall by the Portland Trail Blazers. He quickly added NBA Rookie of the year, Two-Time All-Star and a $100 million deal with Adidas to his young yet impressive resume.
Forbes did 30 under 30 lists for 20 different categories. After last night, Lillard can also add media personality to his resume.
Lillard and the Blazers will take on the Grizzlies at 7 p.m. at the Moda Center.