The Scouting Report: at Denver Nuggets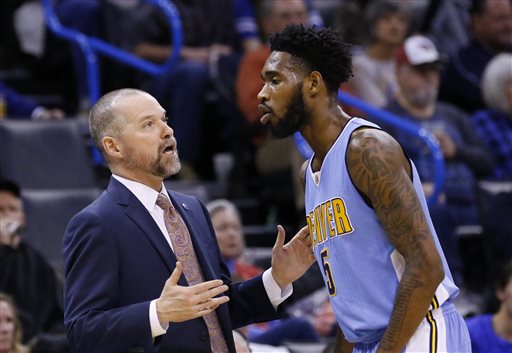 Projected starting line-up: Jameer Nelson, Gary Harris, Danilo Gallinari, Kostas Papanikolau, Nikola Jokic
Injuries:  Emmanuel Mudiay (ankle), Kenneth Faried (neck), Wilson Chandler (hip) out for the year
It hasn't been long since these two teams faced each other. Only five days ago, the Nuggets were in Portland and nearly came back from a 16-point deficit but ultimately lost despite 31 points from Will Barton. CJ McCollum had 29 points and the Blazers had a more balanced offensive attack while the Nuggets seemed to only find success through Barton.
The Nuggets will likely be without starting power forward Kenneth Faried after he was taken off the court on a stretcher following the end of their overtime loss to the Golden State Warriors. Faried's neck appeared to get compressed in a collision with Barton while both were trying to get a defensive rebound. Faried gave fans a thumbs up, but he's spending Sunday night in the hospital in the Bay Area, and the Nuggets fear he could have fractured a vertebrae.
Without Faried, the Nuggets will obviously be without their best offensive rebounder and a source of energy on a nightly basis.
Without Faried, that means that Barton, Gallinari and co. will have to shoulder an even greater responsibility. Barton took 25 shots and was one of the few guys that could get his shot off without a whole lot of trouble against the Warriors. Gallinari was efficient and still has very quick release. If the ball is swung to him, he doesn't need a lot of room to score, even if it takes him a couple of slow dribbles. He only made one of his five three pointers but he had several that looked good.
Gallinari will be a difference maker if he does play. He just returned from injury but played 41 minutes against the Warriors. The Blazers can throw Aminu and Harkless at Gallinari if he does play, but it will make getting the road win much more difficult. It doesn't sound like Emmanuel Mudiay will play, as the Nuggets are officially saying that he'll be out for at least another week. Even though Mudiay says otherwise, it doesn't sound like the Nuggets will let him play.
Off the bounce, Jameer Nelson can still do some things. He's efficient when he gets the looks and is still effective even though he doesn't have the burst he used to off the dribble.
Center Jusuf Nurkic made his debut against the Warriors Saturday night, playing just five minutes. Perhaps they'll let him break more of a sweat against the Blazers. With several players injured, including Faried, they may need to rely on him or former Blazer JJ Hickson a little bit more.