Blazers F Ed Davis probable, Damian Lillard questionable Wednesday vs. Nuggets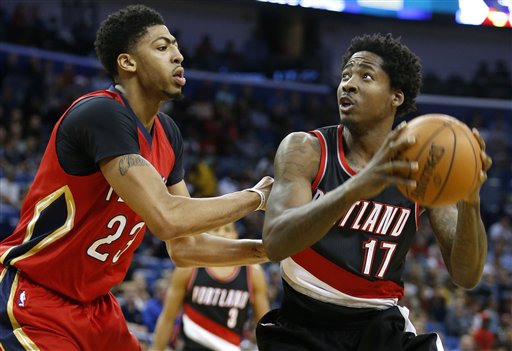 The Portland Trail Blazers will most likely be getting one contributor back in the fold Wednesday night when they take on the Denver Nuggets. Ed Davis was a full participant in the team's Tuesday practice according to head coach Terry Stotts and is officially listed as probable for Wednesday's game.
Davis missed Sunday's 98-94 win over the Sacramento Kings after spraining his left ankle in Portland's blowout Saturday against the Cleveland Cavaliers.
However, it does not sound like the Blazers will have Damian Lillard back, even though he's listed as questionable.
Lillard told reporters that he went through some "live" drills and actually ran during Tuesday's practice, something he hasn't done any of since sitting out the first game of his career on Dec. 21. Lillard sounded unsure of his availability but did say that the pain associated with his plantar fasciitis injury has gone away.
"It's just a matter of getting comfortable," Lillard said. "I haven't played since the Miami game so I gotta get my wind back under me and stuff. It won't take much. But it's just a matter of being comfortable."
Lillard didn't participate in scrimmages but said he did do some full court shooting drills and defensive drills in halfcourt settings.
"I did a full court shooting drill," Lillard said. "Doing a live action draw, some of the Denver stuff. Just live action against ourselves, a couple of possessions of that. So that was it."
Without Davis, the Blazers played a little bit more small ball with their second unit and gave Meyers Leonard more minutes as the lone big man. Leonard had one of his better games of the season with 16 points, 11 rebounds and good defense against DeMarcus Cousins. The combination of Davis and Leonard has worked well this season and the Blazers will almost certainly go back to that bench combination when they face the Nuggets Wednesday.