VIDEO: Blazers F Meyers Leonard gets tangled up with Cavaliers Iman Shumpert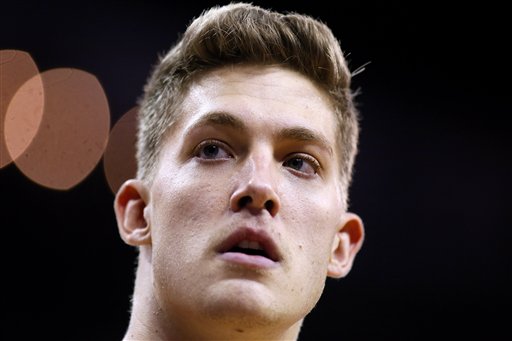 Portland Trail Blazers big man Meyers Leonard has had an up and down season. However, Saturday continued one of the few hot streaks he's had shooting the ball this season, with 13 points, five rebounds and four assists off the bench in 23 minutes in Portland's 105-76 blowout of the Cleveland Cavaliers.
But things weren't all good for Leonard Saturday night. When the game was already decided, Leonard got in a scuffle with Cavaliers swingman Iman Shumpert while the two were battling for position. Shumpert pushed Leonard up high, prompting Leonard to step to Shumpert. But you can check out the altercation for yourself here.
[youtube http://www.youtube.com/watch?v=HNRw3jXDMGA]
Leonard was asked about the altercation after the game what he did to ruffle the feathers of Shumpert and the Cavaliers. Anderson Varejao hit him with a hard foul on a drive after that and Leonard mentioned another play in the second half where James Jones was "overly aggressive."
"I'm not really sure," Leonard answered after the game. "I don't hold any grudges. It did seem a little bit that they had it out for me. Shumpert and I got locked up and I wasn't sure why he was so upset about it. And the James Jones thing, I was just standing there for a rebound and he was overly aggressive. Then when they ran me off the line it seemed like a rather hard foul (from Anderson Varejao), that's part of basketball. I have to continue to play through it but I don't think I have a straight shot answer for that."
He also picked up a technical in the first half in a situation in which he was looking to avoid a confrontation with a referee by running down to the other end of the court.
Leonard and the Blazers are headed to Sacramento where they'll face the Kings Sunday at 6 p.m..