Blazers guard Damian Lillard (plantar fasciitis) OUT Saturday vs. Cavaliers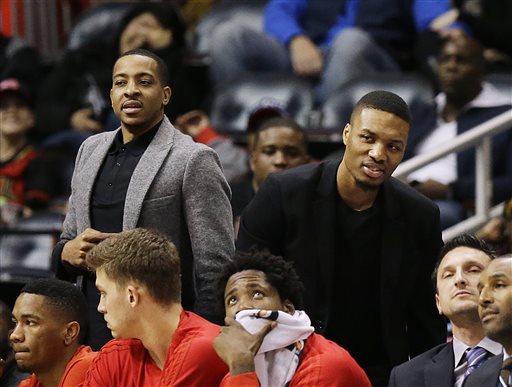 Portland Trail Blazers All-Star point guard Damian Lillard will miss his third consecutive game with plantar fasciitis in his left foot, Saturday when his team face the LeBron James, Kyrie Irving and the Cleveland Cavaliers.
The team announced the decision Saturday morning. Lillard had reportedly been targeting a return for Saturday's clash with Irving and the Cavaliers. Plantar fasciitis is the type of injury that can linger and one that can really only be healed by rest. If the Blazers want to pretend to be in the playoff race for a couple of more months, they may not have enough time to let Lillard fully recover. Before this week, Lillard had never missed a game before in his four-year career.
Expect CJ McCollum to get the start at point guard against Irving and Allen Crabbe to get the start at the two-guard spot, which is what happened in Wednesday's loss to the Pelicans.
The Blazers play the Sacramento Kings on Sunday, so it would appear that Lillard's status for that game is also uncertain. While much of the business world is on a break for the holiday's, NBA players must wait almost two more months until their first real extended break. Including this weekend, Portland's next six games come in back-to-back settings. So, there isn't exactly a great moment in the schedule to ease Lillard back. It's only going to get harder from here, though they will get a nice chunk of home games in January.
However, it is obviously in their best interest long term to make sure that Lillard doesn't cause further injury. They've not yet begun paying his 5-year, $125 million contract, which kicks in at the start of next season. It appears that the Blazers are taking the smart, long-term approach with this injury as they are not rushing him back to play a marquee opponent in an ultimately meaningless game.
The Cavaliers are seven-point favorite tonight against the Blazers.
We've written here before that long absence from Lillard would be one of the only things that takes the Blazers from competitive up-and-comer that hangs around the playfof race to a team with a real shot to get into the top of the lottery. The Blazers are currently in line to be fifth in the NBA draft lottery odds. An even longer absence from Lillard would likely propel the Blazers closer to the NBA basement and a shot at college stars like LSU's Ben Simmons and Kentucky's Skal Labissiere.
The Blazers of current day are suffering without their star. But the Blazers and Lillard are both being smart when it comes to valuing the long-term health of the team over the short-term goal of staying in the playoff race.