The Scouting Report: Cleveland Cavaliers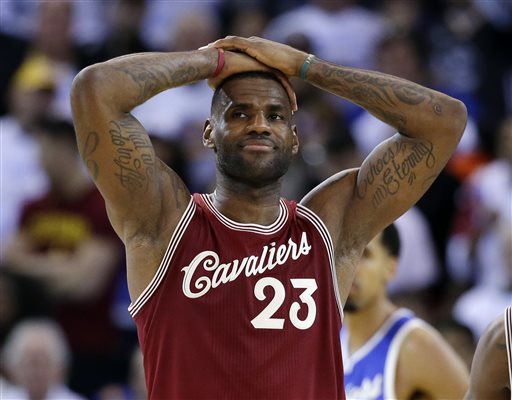 Projected starting line-up: Kyrie Irving, J.R. Smith, LeBron James, Kevin Love, Timofey Mozgov
LeBron James looks poised for his sixth consecutive NBA Finals appearance as he and his Cleveland Cavaliers team appear to have no peer in the Eastern Conference, yet again. That doesn't change the fact that he and his team were a little disappointed on Christmas Day.
The Cavaliers are getting stronger by the day, getting back star point guard Kyrie Irving just a few days ago. Getting Irving back didn't help them Friday night against the Golden State Warriors in a Finals rematch. Save for J.R. Smith, the Cavaliers were betrayed by the outside shot, going a terrible 5-of-30 from deep against the Warriors on Christmas Day.
Conventional wisdom would say that the Blazers are due to face a regression game because that's how averages work. The Cavaliers will probably feel like they're playing 5-on-0 after facing the Warriors stifling defense and explosive offense. But it was a close game and the Cavaliers showed that they're in Golden State's league as they did last year in the Finals. It was a nip-tuck game for the whole afternoon that was physically demanding and probably more fatiguing mentally given the history between the sides.
Kevin Love is going to bust Portland's pick and roll coverage, forcing them to switch everything he's involved in because of his shooting threat. It's not something the Blazers aren't used to, but something that's tough to guard if you continuously get guards on Love or James in switches on the block.
Cleveland's versatility and ability to play small caused problems for the Blazers in their  specifically the move to put LeBron James at power forward. The Cavs were without Irving in that game and gave heavy minutes to former Oregon State grad Jared Cunningham. The Blazers should still expect to see some of that look, with James at power forward and Love at center, which they saw in their last meeting. Love may be guarding Portland's center, but James is the biggest threat to be a shot blocker/rim protector in those situations. Timofey Mozgov still doesn't look right and the Cavaliers have a much better chance trying to win with small ball.
The Blazers have to take better care of the ball than they did in the previous meeting. Portland racked up 18 turnovers in their Dec. 8 loss in Cleveland, a game in which led by 17 points but committed 11 turnovers in the second half to lose.
Now that Irving is back, there isn't a lot of room for Mo Williams to play. However, we may see him more than we did on Christmas Day considering it will be the second of a back-to-back. James said after the game that the Cavaliers still need to work things out offensively, so it sounds like he'll want to give it a go. One would imagine he wants to get the bad taste out of his mouth from one of the worst shooting nights of his career sooner, rather than later.
Irving looks to have his shakes more or less with him but still seems to be getting acclimated to game speed, but that can also just be the Warriors. But he was subbed out of the game late in favor of J.R. Smith while David Blatt elected to leave in Matthew Dellavedova, a scenario the Blazers would most certainly prefer.
The Blazers have had trouble against everybody and they present the Cavaliers with an opportunity to get right after a high-pressure game. If the Blazers get Lillard back, they'll have a chance to pull off the upset. But without him, they'll be far too shorthanded to do so, especially if the Cavaliers have all of their key players available.