The Scouting Report: at New Orleans Pelicans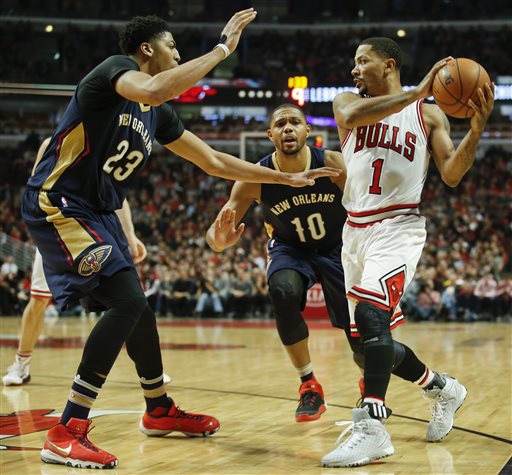 Projected starting line-up: Tyreke Evans, Eric Gordon, Alonzo Gee, Anthony Davis, Omer Asik
If this were a college football game, maybe you could get excited. No. 13 vs. No. 14, it sounds like a great match-up. But this is the Western Conference and while both teams technically have a chance to make the playoffs, only one of these teams had expectations of making it there and they enter Wednesday's game with three less wins than their opponent.
At this point, there isn't much to say about the Pelicans other than how much of a disappointment they've been thanks to several circumstances. Injuries ruined their start to the season and are still a bother right now. Point guard Jrue Holiday still hasn't seen his minutes restriction go above the mid-20's and he's truly their best pick and roll threat next to Davis. While Tyreke Evans' absence hurt, he gets lots of touches at the end of games, Holiday is a more talented pick and roll player with his ability to stretch the defense.
The Blazers made enough plays late in the last meeting between these two teams back on Dec. 14, which was Portland's last home game. Portland had an excellent start but the game changed when Holiday came into the game. Portland will have to take advantage of any time that Holiday isn't on the floor because the Pelicans are significantly worse without him.
Of course, this game will be a tough task for the Blazers as it is without Damian Lillard. CJ McCollum's return is uncertain. If they get McCollum back, that's a huge boost to the Blazers' chances of coming out with a win. The Pelicans have underachieved, but the Blazers without Lillard or McCollum turn a frisky bunch into a just plain shaky one.
Tim Frazier played 48 minutes and took 15 shots and will likely carry a huge load for the Blazers again with Lillard out. Even though the Pelicans have Davis, they've proven over the course of the season that he can't always be enough.
The Blazers don't stand much of a chance without their dynamic duo. But the Pelicans have disappointed, have been injured and still don't really know how to play together in Alvin Gentry's new offense. It's been a tough year and the Blazers do have a chance to pile on to that Wednesday.