Blazers G CJ McCollum (ankles) will play Wednesday vs. Pelicans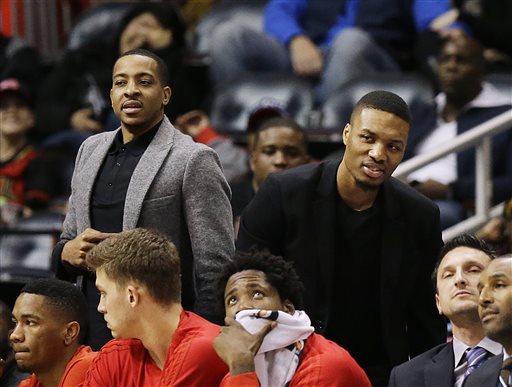 The Portland Trail Blazers won't be as shorthanded as they were in their last game as they'll be getting back second-leading scorer and starting shooting guard CJ McCollum, according to multiple reports. McCollum will start the game at point guard in place of the still-injured Damian Lillard, Wednesday against the Pelicans.
From Joe Freeman of The Oregonian
Allen Crabbe will start at shooting guard and Tim Frazier — who played all but 25 seconds of the Blazers' Monday night loss at Atlanta — will see time at backup point guard.

"I'll be all right," McCollum said Wednesday, following the Blazers' morning shootaround at Smoothie King Center. "I'll be playing tonight."
Getting McCollum back gives the Blazers back one of their best creators. McCollum is averaging 20 points per game, just under four assists and 40 percent shooting on 3-pointers.
McCollum had a career-high 37 points against the Pelicans on Opening night. He also made a big defensive play in Portland's other victory over the Pelicans on Dec. 14.
Lillard is missing his second-straight game with plantar fasciitis in his left foot. While it shouldn't come as a surprise, Lillard told reporters in New Orleans that his goal is to return for Saturday's Boxing Day clash against rival point guard Kyrie Irving and the Cleveland Cavaliers.
Without Lillard in the line-up we'll see quite a bit of Tim Frazier and McCollum will get all of opportunities he handle if the Blazers have trouble scoring. Judging by their last game, they'll have plenty of trouble in that department tonight, even against the Pelicans and their league-worst defense.