Blazers G Damian Lillard OUT Wednesday vs. Pelicans, CJ McCollum questionable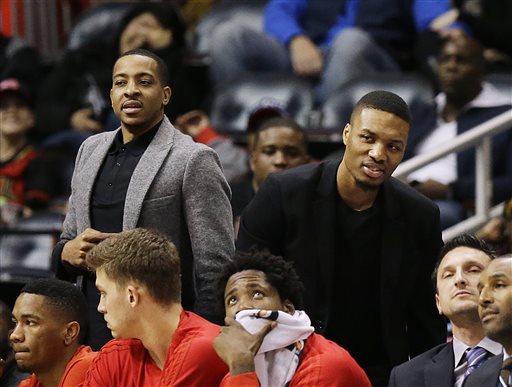 The Portland Trail Blazers will have their best player in street clothes for the second consecutive game Wednesday when they take on the New Orleans Pelicans.
The team announced that Damian Lillard will miss Wednesday's game with plantar fasciitis in his left foot, which is the same injury that kept Lillard out of Monday's loss to the Atlanta Hawks. Monday snapped Lillard's streak of 275 consecutive games played which dates back to his first career game in the 2012-13 season opener. The Blazers lost to Atlanta 106-97.
McCollum, the team's second best player, is questionable for Wednesday with bilateral ankle sprains. McCollum appeared to be injured towards the end of their loss Sunday to the Miami Heat. Having McCollum back in the line-up would give the Blazers a much better chance of ending the road trip on a high note. He's averaging 20 points per game, just under four assists and 40 percent shooting from long-range.
McCollum scored a career-high 37 points against the Pelicans in the season opener and he made a series of game-saving defensive plays in crunch time in the last meeting between these two teams, eight days ago.
Taking Wednesday off will give Lillard five full days off before a showdown with the Cleveland Cavaliers and rival young point guard Kyrie Irving, who has just returned from an injury. The Cavaliers play the NBA-leading Golden State Warriors at midday on Christmas Day.
Lillard is averaging 24.6 points per game, 6.8 assists and 36 percent shooting from long range. I discovered in my Blazers' week and review that only Lillard and Steph Curry are averaging 22 points per game, six assists and 36 percent 3-point shooting in the league. Lillard appeared to turn an ankle in the teams loss to Oklahoma City and then he appeared to be injured again in Sunday's loss to the Heat.