The Scouting Report: at Atlanta Hawks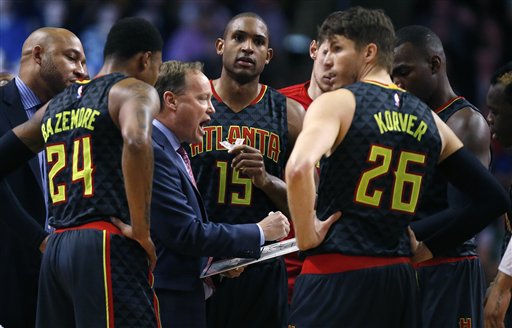 Projected starting line-up:  Jeff Teague, Kyle Korver, Kent Bazemore, Paul Millsap, Al Horford
After a 60-win season last season, the Atlanta Hawks lost probably their best perimeter defender and a key member of their starting line-up, DeMarre Caroll, to the Raptors in free-agency. Losing Caroll has proven to be a tougher task than anticipated and back-up small forward Thabo Sefolosha has been working his way back after getting his leg unjustly broken by the New York Police Department.
So, it's fair to say that there were lots of questions on the wing. Those have mostly been answered by veteran guard Kent Bazemore. Bazemore is shooting a career-best 41 percent from long range, and 12.8 points per game which is just shy of what he averaged when he got to stretch himself in Mike D'Antoni's offense.  Bazemore is long, gets out in transition and has become quite the 3-point shooter. The Hawks are often compared to the Spurs because of the management and coaching staff's ties to the NBA's model organization. With Bazemore stepping up and becoming a consistent starter and allowing them to avoid a $60 million deal for a fifth starter, here the Hawks emulate their NBA kinfolk as well.
The rest of the Hawks are pretty much the same. CJ McCollum will have to chase Kyle Korver around screens all night long and in all directions. The one thing that McCollum will be able to do is go right at Korver but I doubt that the Hawks would stick Korver on McCollum and most likely put Bazemore and his near 7-foot wingspan on Portland's second best scorer. They can more easily hide Korver on Al-Farouq Aminu but Aminu has been hot lately and a solid 3-point shooter on the season overall.
Noah Vonleh may be the player in terms of size to put on Paul Millsap and he will get his shot for at least 15 minutes. But Stotts has shown to play Vonleh a little more on this road trip and if he has success against Millsap and minimizes his mistakes, he may earn more playing time. He has the strength to hold his own under the hoop and the quickness to stay with him at the 3-point line. But he must be attentive to Millsap's changes in movement, of which there are many. Millsap works at many speeds and angles, which makes him one of the tougher guys to guard in the league.
Al Horford is a beast in the middle on both ends and is healthy, which basically the only question I've ever had about him.
Dennis Schröeder is a solid back-up point guard, ditto for Tiago Splitter as the back-up center. The Hawks acquired Splitter when the Spurs cleared the decks to offer LaMarcus Aldridge a contract in free-agency.
The Hawks are now tied for 5th in the East at 17-12, second in the Southeast Division to the Miami Heat, whom the Blazers lost a close one to Sunday. This game will be a test of Portland's focus, the constant offensive movement, passing, screening will demand it for 24 seconds nearly every possession.
In crunch time, the Blazers are going to have to defend Teague pick-and-rolls and avoid allowing Horford or Millsap to get second chances. The Hawks themselves do not attack the offensive glass much, but boxing out their two bigs in crunch time is something the Blazers must do well and something that has hurt Portland in close games before this year. The Hawks are the type of team that exploit weaknesses and the Blazers aren't a great defensive rebounding team, ranking 17th in the NBA in rebounding percentage.