The Scouting Report: at Orlando Magic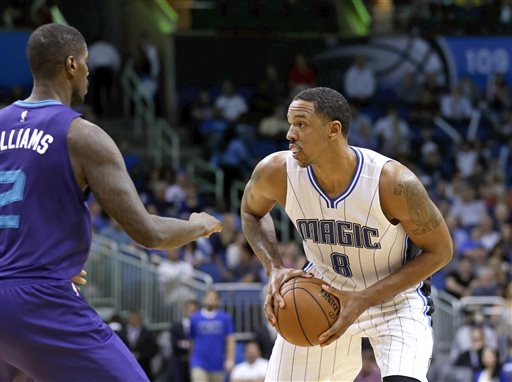 Projected starting line-up: Elfrid Payton, Evan Fournier, Tobias Harris, Channing Frye, Nikola Vucevic
New additions: Head coach Scott Skiles, Shabazz Napier
Year four of Orlando's rebuild is finally showing some progress. The Magic enter Friday night 14-11 good enough for seventh in the Eastern Conference and third in the Southeast Division. Much like the path of their rebuild, the Magic's path to success wasn't a straight line. They started the season playing intriguing basketball to the eye and were one of the more entertaining teams. But their perimeter shooting became a problem as its become clear that the Elfrid Payton-Victor Oladipo has become prohibitive because of their shooting.
Enter Channing Frye–whom was reportedly on the trading block during training camp–the man they paid 32 million last season. The Magic starters are outscoring their opponents by 10 points per 100 possessions since Frye moved into the starting line-up. It's opened up the offense and Frye is hitting at a 45 percent clip, which would be a career-high.
Fournier has been a huge addition for the Magic this season, allowing the Magic to comfortably move Oladipo to the bench. Fournier's shooting has been a major factor for their offense and the Blazers must key in on him early and in transition. Payton is a great conductor in the open court and gets the ball in the hands of the people that can score.
The Frye move also allowed Tobias to move to the three position and have a more perimeter oriented approach to the game. He is getting out in transition and the Magic are really a fun, talented team. Pop the champagne, Orlando! You don't have to tank any more!
Defensively, the Blazers have a lot of things to worry about in this game. But Nikola Vucevic is the most skilled scorer the Magic have. His post moves an make things happen and he looks to be a more willing passer. The statistics reflect that as he's averaging a career-high assist percentage of 15.3 according to Basketball-Reference.
Orlando also seems to have found some success with Victor Oladipo at the controls on the second unit. Oladipo, like Meyers Leonard, lost his starting spot. Oladipo didn't lose his due to injury but the move has provided his team a boost and he's taken the move to the bench well. He's improved his playmaking, like Leonard, his usage rate has gone up, but he's also increased his raw assist numbers, as pointed out by Miles Wray of Today's Fastbreak. Oladipo's name might find it's way into Sixth Man of the Year conversations.
Another player off the Magic bench to watch is young Aaron Gordon who was injured for a lot of last season. He's looking more comfortable and is even flashing a 32 percent 3-point shot.
For Portland, Moe Harkless makes his return to Orlando. Harkless' play has been rather uneventful lately and has seen his minutes fluctuate, though he's played in all 27 games. Harkless has gotten a lot fewer touches offensively lately and that's probably a factor of Leonard playing with the second unit. Harkless' post-ups have been basically been taken out of the playbook and Leonard has gotten an increase in that respect. Looking at points per possession, 0.80 for Harkless and 1.20 (!) for Leonard, it's hard to argue against that decision.
The Magic are going to be a tough team for Portland to match-up with and are much better than they've been in years past. Their depth makes the bench match-up in this game even more crucial. A lot of the credit goes to Skiles for both the changes he's made and the improvements they've made on the defensive end.
Enjoy your weekends and a slew of holiday parties. Here's a little Friday tune for your enjoyment.
[soundcloud url="https://api.soundcloud.com/tracks/237314506″ params="auto_play=false&hide_related=false&show_comments=true&show_user=true&show_reposts=false&visual=true" width="100%" height="450″ iframe="true" /]