Trail Mix: Lowe praises Crabbe, Leonard addresses struggles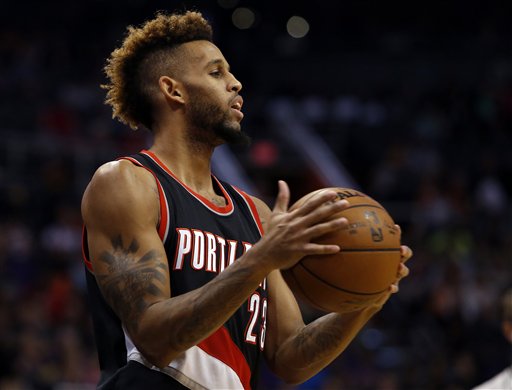 The Blazers are on the road for most of the holiday season and they've got some questions surrounding them other than what gifts they're going to get their loved ones.
Their current road trip began Wednesday with a 106-90 loss at the hands of the Oklahoma City Thunder. That brought with it its own share of drama, but before we get to that we can cover some good news.
Zach Lowe of ESPN.com has given Allen Crabbe a few shoutouts over the season but earlier this week Crabbe got some high praise in Lowe's weekly column.
Over the past month, Crabbe has shot 54 percent overall, including 49 percent from deep, and has emerged as an all-around crunch-time weapon for the Trail Blazers. He is more comfortable attacking off the bounce once Damian Lillardor C.J. McCollum kicks to him, and his footwork on defense has improved massively since the first few weeks of the season. He isn't close to a stopper, and he is undersized as a small forward when Terry Stotts slides him there, but Crabbe is bouncing on his toes and is capable of helping inside, closing out on a shooter and keeping that guy in front of him.

The lineup of Lillard, McCollum, Crabbe, Aminu and Mason Plumlee is becoming a fourth-quarter staple.
Crabbe's rise has been one of the well-documented stories of the Blazers season. He shows up on the defensive end pretty much every night and he can get red-hot to shoot you into a game or seal a win. He's helped close games on both ends (his steal against Minnesota, big shots against Phoenix last week) as Lowe emphasized.
There was more national praise thrown the Blazers' way from Brett Koremenos, formerly of Grantland among other national outlets, writing for RealGM saying that Portland's "star" is their system. Among other things, Koremenos commended the Blazers for valuing development for Noah Vonleh and Meyers Leonard over giving minutes to Chris Kaman.
This brings us to the drama of the moment, which once again involves the question of Meyers Leonard, Noah Vonleh and the starting line-up. If you read here enough, you know that I don't think this should be much of a story anymore. The data is pretty clear and the eye test also shows it's the right move. Yet, Leonard's recent performances beg the question whether he's being used as effectively.
From Joe Freeman of The Oregonian 
But while Leonard made it clear he's willing to fill whatever role Stotts asks and do whatever is necessary to help the Blazers' chances of winning, he envisions more for himself.

"I know I'm a starter in this league — period," Leonard said. "I feel like I bring something different to the table. I feel like the game, the NBA itself, is transitioning into spacing, scoring, being able to guard multiple positions, being able to switch on pick-and-rolls. I have to get better. There's no question.

"The way I am, I believe I'm very selfless. I want it for the team. And so I'm going to do whatever the coaches ask me. But, again, I do feel like I'm a starter in this league. That's what I anticipated for the year."
Jason Quick of CSNNW.com has a lengthy post on that decision as well, addressing Leonard's free-agency and whether Leonard deserves more playing time or not.
Now here's something I would like people to consider about moving Leonard to the bench. Leonard is both taking the role in stride and saying he wants to be the starter.
It is rare for a starter to lose his spot because of injury, but Leonard has done nothing but embrace the role while saying he will do anything to help the team win. 

However, it is clear starting means something to him. Twice on Wednesday he addressed his status.

"Here's what I do know: I've proven and I know what I've done and what I can do. And I know I'm a starter," Leonard said. "Now for whatever reason, they say I don't play well with Mason (Plumlee) and I play better with Ed. Whatever it may be. I still have that same confidence as a player and as a starter's mentality. Unfortunately, I haven't played that well."
There has also been a notion that Vonleh has done nothing to win the job, which is further from the truth than the notion that Leonard must start at power forward alongside Plumlee in order to bring value to the Blazers. Leonard going to the bench allows him to control portions of the game and his role as a scorer is expanded.
Usage percentage is used to calculate the percentage of times a player ends possessions for his team. Possessions can end by a shot attempt, a foul or a turnover. Seven of Leonard's highest usage% games have come in the month of December, all games in which Leonard came off the bench, according to Basketball-Reference. Perhaps Leonard himself doesn't even realize that he's getting the ball a higher percentage of the time he's on the court. Perhaps he doesn't care. Perhaps it's hurting his free-agent stock.
The New Orleans broadcast talked about a 4-years $60 million deal that Leonard turned down. It sounds like Leonard's crazy, but if there's one common thread in talking to a few executives around the league it's that there's "too much money" in free agency and not enough maximum level free-agents to spend it on. The type of environment that leads to Enes Kanter being a max player. A 7-foot-1 center who can shoot 3-pointers and rim run in transition is a commodity not seen much in the league, something Quick mentioned.
Plumlee is the team leader in real plus-minus. And he has been established as the starting center. And while Leonard does lay out the type of player that's needed to play in the league by guarding multiple positions, that player is Vonleh. Leonard's statistics and Vonleh's statistics do not exist in a vacuum. And while Vonleh's numbers have been pedestrian, his length, quickness and versatility on defense have been a noticeable upgrade to Leonard at the power forward position. When Leonard switches onto guards on the perimeter it's almost always an open shot, not so with Vonleh.
With Ed Davis and Plumlee, Leonard has gotten very few minutes at center, which is something the Blazers deserve to see. Leonard will see more minutes as the season goes along but focusing on where he's playing them should be of more concern going forward. The Blazers are finding that Vonleh is a weapon on the defensive end while he's still asked to do very little offensively other than set screens and attack the glass. Leonard's weapon is offense and Stotts has found a way to unleash him on that end and get him more opportunities to showcase his best skills.
And lets look at the line-ups the two players have performed best in.
From NBA.com
Off. Rating = Points scored per 100 possession, Def. Rating = Points scored per 100 poss., Net = differential per 100 poss.
Al-Farouq Aminu-Damian Lillard-CJ McCollum-Mason Plumlee-Noah Vonleh: Off. Rating 109.1, Def. Rating 101.4, Net Rating 7.7
CJ McCollum-Allen Crabbe-Moe Harkless-Meyers Leonard-Ed Davis: Off. Rating 102.6, Def. Rating 92.5, Net Rating 10.1
Not pictured above is the difference in the rebounding numbers between the Blazers current starting line-up with Vonleh and their previous one with Leonard. The Blazers current starting line-ups collects 81.7 percent of available defensive rebounds, a jump of 4.4 percentage points from the line-up that started the season. They also experience a jump of nearly 12 percentage points on offensive rebounds, increasing their overall rebound rate from 46.7 to 53.8, an elite rate.
So, the Blazers have gotten the most out of Leonard when he's alongside bench line-ups and the most out of Vonleh when he's the starter. One of the things that made the Blazers so great in recent years was the knowledge of roles and a clear pecking order. Vonleh doesn't influence Portland's pecking order and is a better compliment for what that line-up needs on the defensive end of the floor, especially at the power forward spot where players are often quicker than Leonard.
Leonard hasn't taken advantage of the increased offensive role lately and has thought his way out of way too many shots. The Leonard that we saw in early December against Dallas when he scored 21 points or against Minnesota with 14 points were the type of games he's capable of in this role. And while Leonard is concerned about starting, if he can play his way into the finishing line-ups, which are wide open on a game-to-game basis, he'll have a chance to prove his worth.
Leonard's game has a lot of value. He can change games by creating space and driving lanes for Portland's guards.
Offense was not a problem for Portland's starting line-up and isn't one now. As long as Lillard and McCollum are healthy, it almost certainly won't be. Their defense with that line-up, however, was atrocious. Leonard's best chance to show he's worth the money is perform when he's given the chance, something he's gotten more of a chance to do according to the numbers.
What the Blazers are doing right now is development. The Blazers are playing their 20-year old former lottery pick in the place where he can best succeed and it also happens to be the team's best chance to win. Their other former lottery pick in his fourth year, who rarely got the chances to showcase his scoring ability, is getting a chance to showcase his skills. It's almost a dream scenario for a rebuild where trying to win and developing talent are concurrent goals being achieved at the same time.
But obviously, that's the problem with humans: nothing can ever be perfect. Either way, the Blazers and everyone involved are learning quite a lot.
Mike Richman of The Oregonian did a playbook breakdown of the Blazers' "54 Weave" play, which you should check out.