The Scouting Report: at Oklahoma City Thunder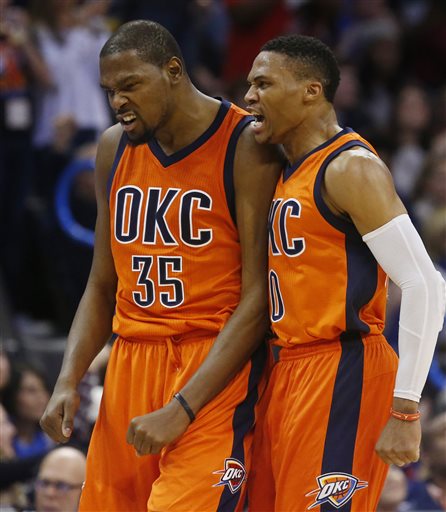 Projected starting line-up: Russell Westbrook, Andre Roberson, Kevin Durant, Serge Ibaka, Steven Adams
The Oklahoma City Thunder are starting to round into form. After a lost season last year where they failed to make the playoffs, Kevin Durant is working his way back into MVP-shape and the Thunder are winners of five straight games entering Wednesday.
After missing time with a hamstring issue, Durant has roared back with a vengeance and has scored 30 points in two out of Oklahoma City's last four games. They handled a good Utah team at home behind a big game from their former MVP and a regular Russell Westbrook night of 25 points, 11 rebounds and five assists. But you already know all of this about the Thunder. We've only been watching them play together for seven, going on eight seasons.
And the players around them have improved, at least in some spots. Andre Roberson flanks the pair on the wing and Steven Adams has been an upgrade to an aging Kendrick Perkins in the middle. Serge Ibaka provides both shot-blocking and 3-point shooting. Noah Vonleh once again will have to keep his eye on the perimeter in addition to helping on the inside when Westbrook or Durant get loose in the paint.
Off the bench, the Thunder have internet legend Dion Waiters, who is a capable creator and defender. In a vacuum, he's an upgrade on the bench. But of course, this is Dion Waiters and Waiter Island doesn't exist in a vacuum. He hasn't shot well from the field overall, but his 36 percent 3-point stroke and defense is keeping him as a playable option for the Thunder, especially late in games. Roberson is the starter, but he plays less than 23 minutes per game.
Enes Kanter is going to be another interesting factor off the Thunder's bench. He's one of the only players in the league with an offensive rebounding percentage higher than Portland's Ed Davis. The match-up between those two on the glass should be fun. If Portland can end possessions, especially with their second unit, they'll give themselves a chance.
But having a chance hasn't been a problem for the Blazers this year, it's been taking advantage of those chances.