The Scouting Report: New Orleans Pelicans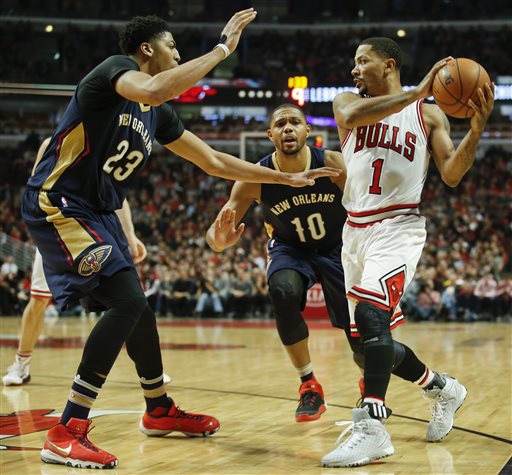 Projected starting line-up: Jrue Holiday, Eric Gordon, Tyreke Evans, Anthony Davis, Alexis Ajinca
Injuries: Ryan Anderson (stomach illness) is questionable
In years past, the Western Conference had a way of killing teams before they even had a chance to get started. The 2015-16 Western Conference has a way of keeping teams alive and the one team that desperately needs all the help they can are the New Orleans Pelicans. When I talked about the Pelicans and their playoff chances on the last Bulls vs. Blazers podcast, I characterized their playoff chances as "fragile."
When looking at all of the teams on the outskirts of the West playoff race, only the Pelicans had expectations of actually being at the party. And the only one with an organizational directive to make the playoffs year after year. Ask Monty Williams, sometimes that isn't even enough.
But injuries to Norris Cole, Omer Asik, the constant that is the Jrue Holiday's minutes restriction and Tyreke Evans, robbed the Pelicans of what little perimeter creation they have. They're also without their best two-way wing in Quincy Pondexter for an indefinite amount of time. Ish Smith filled in well as a distributor but there has been no place to find him minutes lately. Smith's 6-foot frame also makes it tough to play him, especially when they have a healthy compliment of guards. But the Pelicans received some good news over the weekend that Jrue Holiday, whose workload has been slightly increasing, has been cleared to play in back-to-backs.
The thinking behind picking New Orleans as a playoff team mostly rested on the greatness of Pelicans big man Anthony Davis, hyped by many before the season to make a run at league MVP. But perhaps his impact on the game this early in his career has been overstated to a degree. They also instituted brand new systems of play on the offensive and defensive end under head coach Alvin Gentry and defensive assistant Darren Erman. Maybe the Pelicans supporting pieces are just that bad. Either way, no matter how well Davis has played this season, it's rarely been enough.
The Pelicans' last two wins came at home in dramatic fashion, beating the Wizards 107-105 and needing overtime to survive a spectacular comeback from LeBron and the Cavaliers. The Blazers can score on these guys anytime they want. And if Portland gets into a shootout, they should like their chances having much more perimeter scoring in Lillard, McCollum and Allen Crabbe.
Lillard and McCollum went wild in the first meeting with these two teams and McCollum had a career-high 37 points. Things will be a little bit tighter defensively for those two now that Evans is in the line-up, forcing them to deal with a bigger defender. But the Pelicans have not shown that they can really stop anybody, despite the fact that Davis is capable of some of the best blocks you'll see.
Whomever checks Ryan Anderson (if he plays) knows they can't leave him alone and Holiday should be back and ready to go after sitting in their loss over the weekend against Chicago.
If the Pelicans are to make a run at a playoff spot, match-ups like Monday against lower level conference foes on the road are exactly the types of games they must win to keep their playoff hopes together.