The Scouting Report: at Phoenix Suns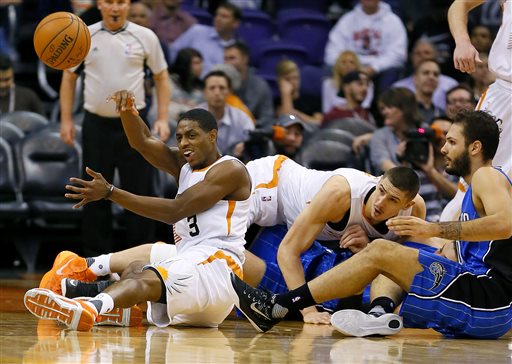 Projected starting line-up: Eric Bledsoe, Brandon Knight, PJ Tucker, Jon Leuer, Tyson Chandler
Injuries: Chandler (hamstring) likely to return vs. Blazers, Markieff Morris (illness) is questionable
The Phoenix Suns, like the Portland Trail Blazers, are hanging around on the outskirts of the Western Conference playoff race.
After a string of four close losses in a row, the Suns stole a win from the Chicago Bulls in Chicago and then beat a solid Orlando Magic team at home Wednesday. The Suns are a team in Portland's weight class and while they've strung some wins together, they're still very beatable.
While the Suns have matched-up very well against the Blazers in past, which seems to be a point of reference every time these two teams match-up. But the problems that these Suns cause compared to teams past are not like the others. Portland has to be better tonight in the pick and roll, where the Suns basically got anything they wanted in the previous two meetings. Tyson Chandler's screens stopped Blazers guards in their tracks and Mason Plumlee and Meyers Leonard struggled to keep tabs on Chandler rolling to the basket. It was like watching a Dad beat up on teenagers at your local pick-up game.
Things should be a little different this time. The first reason why is that while not great defensively, Portland's current starting line-up with Noah Vonleh in at power forward instead of Meyers Leonard has been a stronger defensive unit. The starters with Vonleh have a defensive-rating of 104.2, which is still below average, but much better than where the Blazers other starting line-up rates.
So, Portland should be a little bit better equipped to defend the Suns' starting line-up this time around. It also will help Portland if Morris, who is a good bet to be traded at some point, doesn't play. Despite the personal problems he's had and the fact that he's stated his desire to be traded, Morris is a tough guard for a lot of power forwards. Vonleh has the quickness, length and strength to bother him, but it looks like we may not see that match-up. Jon Leuer is a good jump shooter but if Vonleh can close out on him, the threat is more or less neutralized.
Off the bench, Mirza Teletovic brings shooting at the power forward position and it should be an interesting match-up between he and Meyers Leonard. The second-unit match-up will be a fun small-ball battle much like this game should be throughout. The guards on both sides go like few other backcourts. The shots will fly, the pace will be fast and at the very least this game should be fun.