Blazers have dominant 4th quarter in 106-96 win over Suns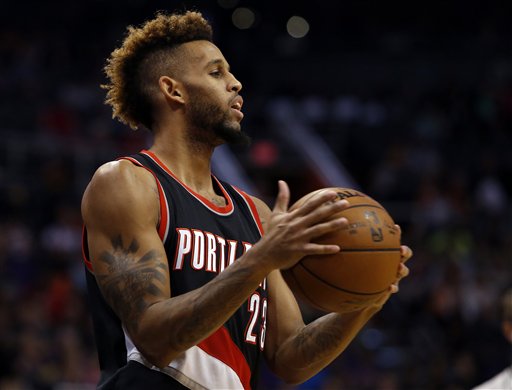 Things are never easy with this Blazers team, until they are. The Portland Trail Blazers had a dominant fourth quarter en route to a 106-96 win over the Phoenix Suns. It was a win that salvaged a .500 road trip that looked like a guarantee with 22 seconds left in Milwaukee.
CJ McCollum had 26 points, Allen Crabbe scored 18 off the bench and Damian Lillard came through in the clutch, finishing with 18 points. The Blazers forced six Suns turnovers in the 4th quarter and 4-of-15 shooting in the decisive final period. It wasn't unlike other Blazers wins this year, such as their home wins against the Clippers and Pacers, that were tight, but the Blazers were able to cruise to drama-free victories.
Given the pace the game was played at and the scoring power on both teams, every lead felt temporary as the team exchanged run after run. But the Blazers changed that in the 4th quarter and for the first time in a few games, the Blazers took care of business on both ends. Their defense was great, the Suns collapsed, but they finally started getting people to hit shots late in the game.
I wrote about Lillard, but most every Blazer has struggled with his shot in the 4th quarter. McCollum has been more or less consistent and he was dazzling tonight, but tonight the Blazers got big shots from Crabbe and Al-Farouq Aminu. Even Mason Plumlee scored out of a post-up! The Blazers had it going on all cylinders late. Without Tyson Chandler, the Suns were dominated on the glass and their pick and rolls just weren't as effective.
Crabbe continues to impress for the Blazers and was a difference maker for Portland on the wing. Not only did Crabbe score in double-figures for the fifth straight game and nearly eclipse his career-high, but he made plays on the defensive end. He got his hands on balls, forced shot clock violations and turned rookie Devin Booker, who went off in the first half, into a relative non-factor late in the game.
I'm sure you were watching the end of the Warriors-Celtics game (because why wouldn't you, League Pass is free this weekend!) while the Blazers and Suns were just getting going. Early on, even without Tyson Chandler in the middle, it looked like the Blazers would once again fall behind big against the Suns.
Eventually, McCollum and Lillard got theirs, but the hottest player early on for Portland was Crabbe. Crabbe scored 10 points in the final 3:46 of the first quarter, helping the Blazers build a 7-point first quarter lead.
Things continued to flow in Portland's direction, but the Suns started to chip away with the shooting of their bench and some creative line-ups from head coach Jeff Hornacek. Booker and Mirza Teletovic both hit shots from the outside, but when the Suns went to a three-guard line-up with Ronnie Price alongside Bledsoe and Knight, the Suns closed the gap and eventually took the lead. At one point late in the game, Meyers Leonard left a great deal of air space between he and Teletovic, allowing him an open look at a 3-pointer in-front of a furious Terry Stotts.
Stotts had to have been pleased with his team's play late in this one. Offensive balance late in the game, Lillard making big shots late but contributing in other ways by leading the team in assists and getting it done on the glass and excellent defense late.
After a mind-blowing loss to Milwaukee, the Blazers caught a break in Phoenix with Chandler missing. But after racking up close loss after close loss, perhaps they were due for a break.
Notes
Terry Stotts continues to play match-ups well. Tonight we saw more Gerald Henderson against a guard-heavy Suns team and less Moe Harkless. We also saw Stotts not hesitate to go small when Hornacek tried to speed up the game. It worked early on, but the Blazers adjusted.
Mason Plumlee had 4 assists. It was the 6th game that Plumlee had four assists or more this season. During Plumlee's first two seasons in Brooklyn, he only recorded three such outings. In researching my piece on Damian Lillard in crunch time, I learned that 20 percent of Lillard's made shots in the 4th quarter had come from Plumlee assists in the first 23 games.
Aminu was excellent tonight. He hit shots, but he was everywhere defensively. He had a double-double in the third quarter and also had a block and three steals.
I said after the last game I thought Allen Crabbe is going to get paid this summer. But the way he's improved on both ends is going to get him a big pay day. There aren't many guards who can get their own shot and defend in the way he has shown the last few games. Everyone is searching for 3-and-D, but Crabbe brings that and more. I said multiple times in multiple places that I thought Gerald Henderson wasn't good enough to steal minutes from Crabbe. He hasn't and Crabbe's role has only grown since Henderson's return to health.
Noah Vonleh has his lapses, but as every game goes by, it becomes increasingly clear that playing him with the starters is the right move. He only had two points, but he had five rebounds and was a +9 on the night. The Blazers starting line-up now has a net-rating of 6.7, playing passable defense (102.9 d-rating) and excellent offense (109.6). Of all of Portland's big men, Vonleh has the best combination of length, athleticism and strength to defend in the pick and roll. While the discussion over the starting line-up was a nice parlor game to play for a few days, the evidence continues to mount that this isn't just the best move for Vonleh, but a better move for the Blazers as a team.
The Blazers are 10-14 after this game, 1.5 games out of the playoffs. As we've said, the 7th and 8th seed are shaky until further notice. The Rockets and Jazz are good bets to hold on to those spots but with inconsistency and injuries impacting them respectively, teams like Portland, Phoenix and Minnesota (10-12) are hanging around. Utah is currently in 8th place at 10-11 while Houston is 7th place at 11-12.
The Blazers play a rested Knicks squad tomorrow, featuring Kristaps Porzingis aka Young Lurch aka The American Dream aka the Internet's favorite player, Carmelo Anthony and of course, former Blazer Robin Lopez. We'll have coverage of Lopez on his return to Portland tomorrow.