Lillard Time: How the Blazers are using their star in crunch time
As I'm sure you've heard, unless you're living under a rock, the Portland Trail Blazers have had some trouble closing teams out in the 4th quarter. According to NBA.com, the Blazers are 5-10 in games that get into "clutch" situations, which is determined as a game within five points in the final five minutes.
Only two other teams basketball-affiliated organizations in the NBA have lost 10 games in similar situations so far: the Los Angeles Lakers aka the NBA's best reality show, Time Warner Cable's Real Lakers of Los Angeles and the Philadelphia 76ers, who just underwent a league-enforced regime change because of, in the words of one 76ers writer, their "amoral late-Capitalist social experiment." 
The Blazers have a -25.6 net-rating, their point differential per 100 possessions, in 50 minutes of clutch ball according to NBA.com. They can't score and opposing teams can't miss.
It's an interesting story for two reasons.
1) The Blazers have been one of the better clutch teams in the NBA under Terry Stotts. They've consistently been a positive in those clutch situations, even dating back to Stotts' first season in Portland. 2) The Blazers have one of the most highly-regarded clutch performers in the NBA in Damian Lillard on their side, they even name a portion of the game after him.
The NBA is a star league and teams go as their stars go. The only difference of course between this season for Lillard and the past seasons is he is the unquestioned late-game option on almost every possession. Before he had Wesley Matthews and Nicolas Batum on the wing to hit clutch shots, one of the better post-up threats in the game, LaMarcus Aldridge, and one of the league's best screeners in Robin Lopez to help alleviate that burden.
So how are things going for Lillard this season? Well, early on, things aren't going very well.
When we checked in on Lillard's 4th quarter numbers last week, he was shooting just 26 percent from the field and 20 percent from long range. His clutch numbers are almost as bad, with a slight uptick in 3-point shooting. Things have gotten a little bit better lately, now up 30 percent from the field and 26 percent from deep.
For this article, I looked at all 116 shots that Lillard has attempted in the 4th quarter this year to find out what's going on.
All video via NBA.com's stats site.
Using Mason Plumlee
Above, we talked about how Lillard used to be able to rely on his supporting cast to make plays late in games. And in 2015, that's still true, just that he's using them in other ways and working off the strengths of his new teammates. Using Mason Plumlee's passing as a way to get Lillard looks has been one of the constants for the Blazers this season.
Lillard is a pick and roll demon for opposing defenses. Capable of stretching the floor beyond 30 feet and improving his playmaking every year, the pick and roll is Lillard's preferred method of attack and thing that's made him a two-time All-Star and max player. He's also been one of the best isolation players in the NBA since coming in to the league in 2012-13. And although Lilllard is still a threat in those situations late in the game to bury you (see: Clippers game on Nov. 20), it's best for Lillard and the Blazers to shake things up.
Nobody has assisted on more of Lillard's baskets than Mason Plumlee. That is a trend that carries on into the 4th quarter. In fact, Plumlee's passing has been more instrumental in Lillard's success in the 4th quarter than in the other three. Plumlee has assisted on seven of Lillard's 35 made field goals in the 4th quarter, accounting for 20 percent of his made baskets. Lillard and Plumlee have both spoken about their growing comfort with each other when asked throughout the season.
That's by far the most of any player and in total, Plumlee has assisted on 19 of Lillard's 196 field goals. So, nearly 10 percent of Lillard's made shots are courtesy of Plumlee throughout the game. Lillard's shooting threat means that people must guard his 3-point threat, but he and Plumlee are exposing that knowledge by going backdoor on Portland's trusty flare screen set or out of HORNS.
Here's an example of a variation of that action with Plumlee. After giving the ball to McCollum, Lillard takes the flare screen from Plumlee. Then Plumlee receives the ball from McCollum and it looks like the Blazers are going to run a Plumlee-Lillard dribble hand-off before Lillard goes backdoor.
Two points.
Plumlee's passing has been his best asset to Portland's offense, and the Blazers have been wise to use it to get some easier looks for their star.
The Blazers do this a lot throughout the game and late in games, it's been one of the few places that Lillard has been able to find consistent success in the 4th quarter.
And that play also lives off the threat of another action the Blazers have been using more of lately to get Lillard shots.
Dribble Hand-offs
The other way that the Blazers are looking to get their star in more advantageous situations is through dribble hand-off plays. According to Stotts, it's been a mix of both a concerted effort from the coaches to get more of these situations and the players on the court playing off each other more.
Especially in the last stretch of games, Lillard's involvement in dribble hand-off situations late in the game has increased. And few things on the NBA court happen by coincidence.
By my count, Lillard was only involved in dribble-hand-off actions five times to create his shot in the first 12 4th quarters. In the next 11, Lillard has had 10 such actions run for him including five times in the last two games.
We saw more of this action against Milwaukee but we saw Portland use it more against Cleveland, who were turning the Blazers over at a very high rate. Here, Lillard has to trust in his teammates, usually big men, to make the play while he shakes his man before he gets the ball. Here is Lillard running the play with Plumlee in their last game.
Lillard doesn't make the shot, but these are the types of actions that can keep the opposition off balance. The Blazers went to the well quite a bit on the hand-off plays Tuesday and the Cavaliers were selling out to stop it, like on this play where Dellavedova shuts the action down by faceguarding Lillard.
The Blazers have to scramble into something because of good defense, but the Blazers didn't go away from the action. In fact, they went to it on their very next possession and it led to a basket.
Because of Portland's offense, Lillard is going to be involved in a lot of hand-off plays. According to Synergy, Lillard only executes a dribble hand-off 7.7 percent of the time even though he's had the fifth most possessions end with a hand-off action. It's a reflection of how much he has to do all over the court.
Lillard hasn't been elite in those situations. Far from it, ranking in the 42nd percentile in hand-offs according to Synergy. However, when looking at the tape, it seems like this is a good way to get Lillard going late in the game, even if it's something he doesn't do as often. It allows Lillard to lose his defender before he gets the ball and it forces defense to think about him even more when he gives the ball up.
Teams are no longer fooled in the pick and roll, but that will still be a weapon. Isolations are a weapon. But opening up his late-game arsenal is a good way to keep defenses on their toes, especially when everybody knows where the ball is going.
Missing Open Looks
This portion of Lillard's 4th quarter struggles would be filed under "luck." In my super high-tech charting system, I noted that 13 of Lillard's 116 4th shots were open. I've used the wide-open that the NBA uses before, but according to the much smarter folks at Nylon Calculus, those determinations aren't exactly accurate. So, when I say open, I mean shots like this.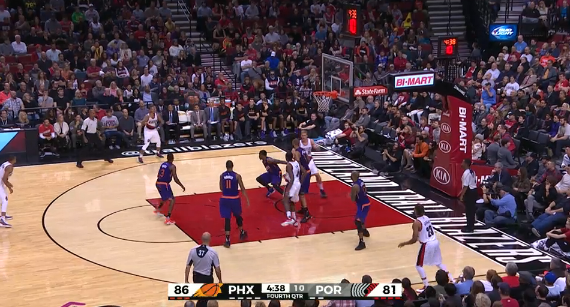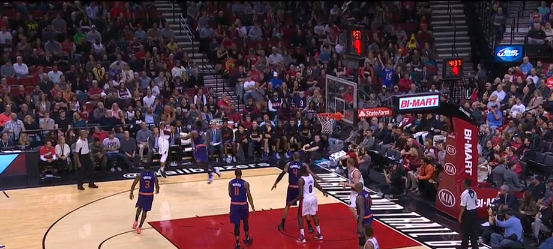 Bledsoe closed out late, but from the distance he was coming he had no chance at blocking or really bothering Lillard's shot. Lillard missed that, but it's a shot that any rational basketball person would want him to take. Lillard has been one of the league's best perimeter shooters since he got to Portland. According to Nylon Calculus, he shot 35 percent on open 3-pointers last season.
This year in the 4th quarter, Lillard is shooting 26 percent on 3-pointers, following another down season in that category. In Lillard's first two seasons, he shot above 38 percent from long range in the 4th quarter and over 40 percent from the field in each of the past three seasons. Perhaps that can be chalked up to better scouting and the knowledge that Lillard can win close games singlehandedly.
But, you take this shot from Lillard every time.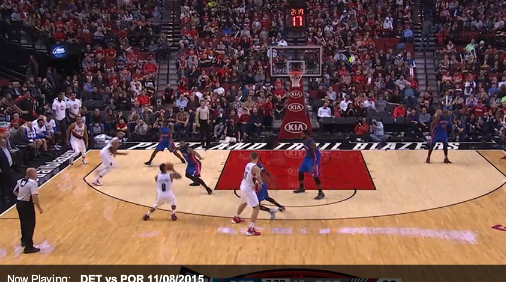 Making one out of his 13 open shots has to be chalked up at some point to luck. He doesn't get a lot of open shots, because he's Damian Lillard. But that's only a small portion.
Lillard's shooting has been slightly better in the 4th quarter the last couple of games and the Blazers have used more different actions to get him going. Making open shots will certainly help those numbers bounce back. But last year showed that Lillard's 4th quarter performance is no longer a given, a reminder of how tough it is to rise to the occasion in the biggest moments. And it looks as though the Blazers and Stotts are looking for more ways to get him going.
The changes are subtle and the results have been mixed.  But if Portland can find more places for Lillard to succeed, they'll be better for it this season and in the future.