The Scouting Report: at Milwaukee Bucks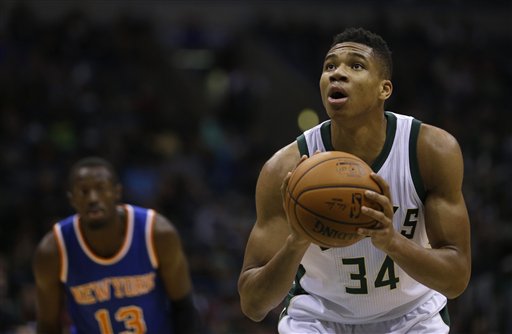 Projected starting line-up: (Not Michael Carter Williams), Khris Middleton, Jabari Parker, Giannis Antetokounmpo, Greg Monroe
New additions: Greg Monroe, Greivis Vasquez, Rashad Vaughn
The Milwaukee Bucks weren't supposed to be here. Or maybe they were. The Milwaukee bandwagon got considerably lighter as the season arrived with several national voices jumping off before the first day of the season. Early on, the skeptics were right to question year two of this rebuilding path for the Bucks, because they've been a disappointment.
Milwaukee's rise into the playoffs and into the discussion of team's to watch in the future was sparked by their excellent defense. Jason Kidd built a defense on the athleticism, youth and length of his roster, resulting in the 4th best defense in the league in terms of points allowed per 100 possessions.
So, why the precipitous drop-off? Well, a couple of things are at play here.
First, they lost some key players, key veterans, that helped them have success last year. They traded Jared Dudley to Washington and Zaza Pachulia went to Dallas in free-agency. Perhaps it's not much of a coincidence that Milwaukee's team defense has gone in the tank while Dallas has hung their hat on their defense, after years in the bottom-10 in the league in defensive rating.
The other change of course is Monroe, whom you may recall was almost a Blazer. Monroe is slow-footed, he doesn't jump very high and just isn't a good defensive player. He's been this since he was in Detroit, but the length and athleticism of Milwaukee's wing defenders hasn't been able to make up for his inability to stop other people from scoring.
But perhaps the Bucks' troubles go back even further than that, dating back to the trade of Brandon Knight at the deadline last season. Milwaukee's numbers took a major hit when they shipped Knight to Phoenix, replacing him with Michael Carter-Williams. MCW had some great moments, especially in the playoffs against the Bulls, but now he's been benched in favor of playing O.J. Mayo at point guard.
This could be Jason Kidd trying to teach Carter-Williams a lesson. Kidd has done this before with other players on the Bucks, even benching them for the entire game. If the Bucks are going to get things together and sneak into the playoffs, which is looking more unlikely by the day, they'll need Carter-Williams to pick up his level of play.
Antetokounmpo is a match-up problem for everybody and Al-Farouq Aminu will have his hands full. Milwaukee has a huge size advantage against the Blazers. This could cause problems when the Blazers switch pick-and-rolls which they do quite a bit. Jabari Parker is still working his way back to full health after recovering from a torn ACL but has developed an allergy to the 3-point line, taking just two shots from long-range so far this season.
Of all of the remaining games on this road trip tonight, the first of a back-to-back set, is Portland's best chance to get a win.