Blazers comeback to defeat Wolves 109-103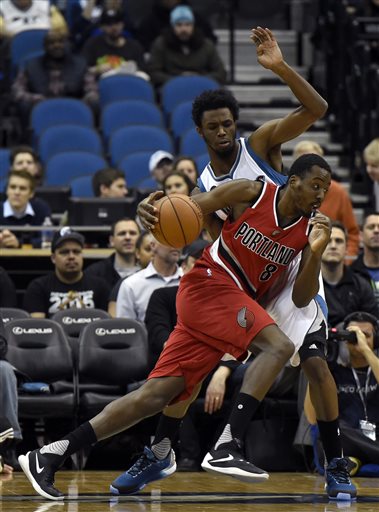 The Portland Trail Blazers came back from 17-point deficit to defeat the Minnesota Timberwolves, 109-103 in the first game of a 4-game road trip. Guards Damian Lillard and CJ McCollum both bounced back from slow starts to get crucial buckets in the second half while Portland's defense also stepped up.
The Blazers and Wolves are closely matched. Both teams came into Saturday with eight wins and ranked right next to each other net-rating (Wolves 0.0, Blazers -0.5), point differential per 100 possessions. But Saturday showed how important coaching can be as Blazers coach Terry Stotts pressed all of the right buttons with his rotations while Sam Mitchell couldn't find the right combinations to stem Portland's momentum in the second half.
Stotts stuck with their second-unit front court of Ed Davis and Meyers Leonard for almost the entire fourth quarter, which caused problems for the Wolves. Whomever was guarding Leonard, whether it was Towns or Gorgui Dieng, was pulled away from the rim. And Minnesota's two-guard line-up with Rubio and LaVine didn't threaten the Blazers guards much on the other end.
It's also hard to adjust when Lillard and McCollum eventually get their way as they did tonight. But it's even harder when Portland gets them going as well as their bench. Davis had 13 points and eight rebounds, making the Wolves pay for trying hack-a strategies on him late in the game. Leonard had 14 points and two 3-pointers. Allen Crabbe was in double-figures again with 11 points and Gerald Henderson pitched in eight points.
Prior to Saturday's game, Blazers head coach Terry Stotts confirmed to reporters in Minneapolis that he would continue sticking with Noah Vonleh starting at power forward instead of Leonard. I suspected that he would continue with the line-up, because of their overall performance and today he finally confirmed it, likely tired of continuously being asked the question.
The Blazers starters had a much better start, down just two when Vonleh was subbed out despite getting very little from Lillard and McCollum. Though, Lillard did do this in the first half.
https://vine.co/v/i7AHbPVgZht/embed
It didn't stop the Blazers from falling behind big. Andrew Wiggins was hot early and the Blazers couldn't do much to stop him except hope the midrange shots that were going down would stop falling. Their prayers were answered as Wiggins ended the game 6-for-15 from the field after starting 5-of-6. Somebody get this man a real offense.
The Blazers were hurt by foul trouble to key members of their front court early. Al-Farouq Aminu and Mason Plumlee picked up two fouls apiece in the first quarter. The foul trouble forced Aminu–who scored Portland's first 8 points–out of the game prematurely.
The foul trouble wasn't just limited to the starters. The Wolves' bench gave Portland some match-up problems, but as soon as it looked like Portland's bench was figuring things out, Leonard picked up his 3rd foul in the 2nd quarter. Leonard had scored seven straight points before picking up his third.
Portland trailed by 13 at halftime with Lillard and McCollum combining for just seven of their 46 points.
Things changed in the 2nd half. McCollum scored 12 of his 17 points in the 3rd quarter, torching Minnesota's Kevin Martin every other possession. The Wolves, for whatever reason, never decided to switch Wiggins onto McCollum and continued to allow McCollum to go crazy. The rim, the 3-point line, midrange, pretty much anything McCollum wanted to get, he got.
The Blazers also started to get stops. The Wolves offense, which is heavily reliant on midrange shots, started to dry up. Portland got to play in more of a flow offensively, which allowed McCollum to take advantage.
Stotts closed with Ed Davis and Meyers Leonard in the frontcourt, a combination that has worked well for them. The chemistry between the two has been growing (something you can read more about in Monday's Columbian) and that combination worked out well late in the game. The Blazers trailed by two after three quarters but took a 6-point lead with Lillard on the bench.
Lillard had big bucket down the stretch, including one with Towns out of the game in the final moments. Coaching, kids, it matters.
Portland's bench bounced back after a rough first half and their backcourt took over when they needed them to. The Blazers get a nice win against a team that has the talent to be in the playoff discussion, like they are a quarter of the way through the season.
But the Blazers are also in that discussion, now standing at 9-12, which is ninth in the West. I figured they would hang around in the playoff race for a while, which they've done so far. And now with Utah's Rudy Gobert out for an indefinite period of time, they may hang around longer than I thought. It seems that they've started to find a bench identity to go along with the Lillard and McCollum show. A quarter of the way through the season, it seems that the Blazers have found a consistent cast of contributors, which may be their biggest win of the season so far.
Notes
The Blazers head to Milwaukee where they'll take on the Bucks, who've been a disappointment, Monday. They just started O.J. Mayo at point guard over Michael Carter-Williams and their elite defense from last year has imploded since the loss of Zaza Pachulia and the addition of defensive-minus Greg Monroe. This one is Portland's best chance for a win out of the final three games of the road trip.
Minnesota has so many interesting pieces but it's frustrating sometimes how they're used.
Stotts seems to like Gerald Henderson more and more every game. He has the green light on offense and has performed very well lately in that role. He normally doesn't like to play more than nine guys, so it's a credit to Stotts that he's adjusted that style to fit Henderson in.