The Scouting Report: at Minnesota Timberwolves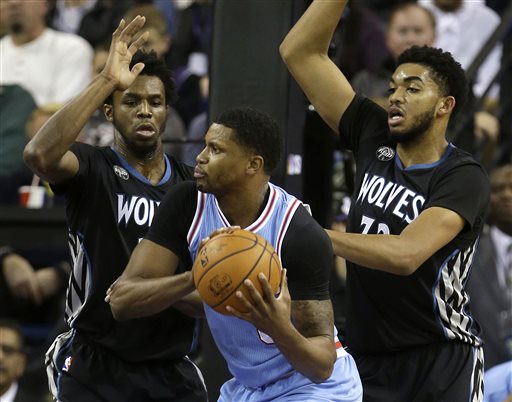 Projected starting line-up: Ricky Rubio, Kevin Martin, Andrew Wiggins, Kevin Garnett, Karl-Anthony Towns
Previous meeting: These two teams played each other in Minneapolis on Nov. 2. The Blazers won 106-101, giving them their first road victory of the season. Damian Lillard dominated with a 34-point, 7-assist performance and the Blazers closed out a victory by playing Al-Farouq Aminu at power forward. Karl-Anthony Towns only played 26 minutes as he was plagued by foul trouble while Andrew Wiggins played under 24 minutes.
The Wolves have playoff caliber talent. A quarter of the way through the season, there is no denying that. They have a losing record (8-10) but that doesn't change the fact that they've taken the league by storm. People around the league were surprised at how quickly they've risen.
Towns and Wiggins have given this team legitimacy. They've already had some signature finishes with Wiggins controlling things offensively while Towns stones people at the rim in crunch time. But interim head coach Sam Mitchell has been riding the hot hand with his big men lately, going to Gorgui Dieng in Towns' place. During their loss on Tuesday to Orlando, they closed the game with a Dieng-Garnett frontcourt.
Mitchell also changed up the starting line-up from the last time we saw these teams play. He made a tweak by putting Kevin Martin in the starting line-up, but it hasn't exactly worked out. They've only played in five games together but they're posting a net-rating of -19.5, which is most certainly not good.
Portland had success closing out the last meeting by going small. Allen Crabbe sealed the game with a steal when Minnesota had a chance to win the game. And although the Blazers haven't used it much lately, going small could be to their benefit again.
Nemanja Bjelica has been another nice addition for the Wolves, shooting 38 percent from long range off the bench as well as 57 percent on his 2-point shots. He helps space the court but he's also a decent defender.
Portland's bench unit has been a solid plus for them the past few games, which they've needed after some slow starts. That will be harder to do against the second units of the Wolves, which have some pretty decent players. Andre Miller can still do some things, Dieng has been playing so well that Towns has played three (THREE! THREE!?!?? TRES?!??!?!) total minutes in the last four 4th quarters according to NBA.com.
And while it seems like it's a hot button topic again, I'd like to say again that Terry Stotts doesn't need to change the starting line-up. And since he won't tip his cap about his starting line-up, it's become a fun parlor game to guess. I'd assume that he sticks with Vonleh over Leonard. The net-rating with Vonleh in the line-up is -0.6 while the Blazers have a +1.1 net-rating with Leonard. Let's also keep in mind that in one of the games included in the data set for the starters with Vonleh was one where Damian Lillard couldn't keep his lunch down.
Starting Leonard against the Wolves, forcing Garnett to guard out to the 3-point line, isn't a bad idea. However, Leonard has shown no trouble scoring off the bench and blending in with bench units as a more featured offensive player. I doubt Stotts messes with that mojo and according to the data, he doesn't have *much* of a reason to.
The winner of this game will have nine wins, which these days is good enough for the 8th seed in the West.