Trail Mix: Blazers don't have a dollar, only three quarters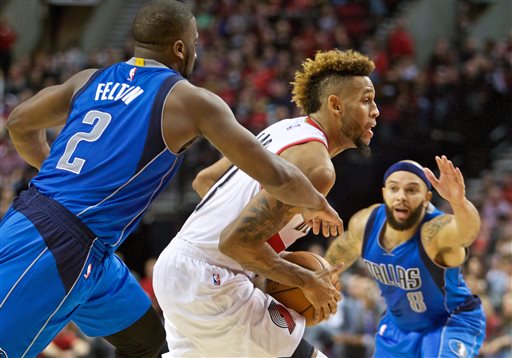 Thanks to the listeners of Dusty And Cam on 1080 AM The Fan for submitting several hilarious headlines for this post on Portland's fourth quarter struggles. As promised, we are using a listener/reader headline contest winner as selected by Dusty, Cam and producer Alex Crawford. Now that we've got that out of the way, on to the basketball!
The Trail Blazers have a fourth quarter problem which once again reared it's ugly head in Tuesday's overtime loss to the Dallas Mavericks.
Tuesday's collapse brought back memories of their other great collapses so far this season like their loss to the Pistons in early November,at Memphis or at Houston a few weeks later, or even in the preseason when they blew a 35-point lead to the Clippers.
After last night, the Blazers have been outscored by 6.7 points per 100 possessions in the 4th quarter according to NBA.com, which is 22nd in the league. It's an improvement from being the worst fourth quarter team in the league a few weeks ago, but it's still a major issue.
So what's wrong with the Blazers in the fourth quarter? That seems to be the question everyone wants to know. And the answer will differ depending on the night and who you ask. Some nights, the Blazers give up key offensive rebounds to blow the game. Sometimes they have a turnover storm.
"It's honestly a mix of things," Meyers Leonard said of the team's late-game struggles. "Sometimes it's a miscommunication on defense. Sometimes it's some loose balls we didn't get, a tip out rebound that went there way. Dirk had the tip in to tie the game. Wes got fan offensive rebound put back. I had a miscommunication with Dirk for a 3. I think it's across the board. I can't put my finger on just one thing. We're not shooting particularly well, because of that we're getting a bunch of offensive rebounds and playing hard. But at some point it's not always about playing hard. It's about executing and finishing games so, guys lilke Damian and I and CJ, we have to step up, we have to weather the storm and take the rest of the guys with us. Unfortunately that didn't happen tonight but again, it's all a part of the learning process but we have to learn how to close out games like this."
The Blazers were shown some of the plays they ran after the game, but Allen Crabbe said he thought Portland blew the game defensively.
"Complacent maybe, with the score, thinking we were going to have the game," Crabbe said. "We were watching some stuff from the game. Sometimes we weren't aggressive enough getting into our plays, stuff like that. I just feel like we didn't come up with the defensive stops after the game."
Here, Crabbe is getting back to the above point: the problem in the fourth quarter depends on the night. And, there is some truth in that, but it hasn't helped the Blazers that even when they create open shots, they can't make them.
According to NBA.com's tracking statistics, the Blazers are shooting 25.5 percent on 3-pointers they deem "wide open," meaning there isn't a defender within six feet of the shooter, in the fourth quarter. Only the Brooklyn Nets and Denver Nuggets have shot worse on wide-open 3-pointers in the fourth quarter. Yes, the Blazers have shot worse in the 4th quarter on wide open shots than the 76ers who treat made baskets like a scourge plaguing the NBA.
So how do the Blazers fix that?
"The NBA is all about execution," Leonard said. "When it comes to their scouting reports, I and the rest of the guys know what's coming the majority of the time, so it's about executing. We have to execute, harder cuts, better screens, more focused. Ready to make plays and trust the next guy. Again, it's part of the maturation and learning process. But we'll get better from it."
In the other three quarters, Portland converts those shots at a rate no-lower than 37.8 percent. Head coach Terry Stotts mentioned two possessions late in last night's loss where Portland got into their sets late. Crabbe mentioned complacency. Some of it is Portland's lack of attention to detail on both ends but some of their late struggles have been a bi-product of luck. Portland is getting beat on the little things, but even when they get good looks, they've had trouble making them late in games.
The Blazers attempt a higher percentage of shots from the 3-point line in the 4th quarter, according to NBA.com and shoot 27.3 percent on all 3-pointers in the final period of games. The fact that the Blazers are taking more shots from the outside could be a factor in their bad fourth quarter shooting, similar in some ways to the problems the Houston Rockets are having.
CJ McCollum has been the only regular contributor to hit over 30 percent on 3-pointers in the 4th quarter, shooting 43 percent from 3.
It doesn't help that their best player–whom they rely so heavily on–hasn't been able to produce late in games.
Damian Lillard has struggled for most of the season from the field, shooting 26 percent in the fourth quarter and 20 percent from the 3-point line. It also doesn't help that Lillard, while he's been trying to force the issue, just doesn't get to the charity stripe as much as his high-usage peers. Lillard has the lowest free-throw rate in the league among players who use 30% of his team's possession when he's on the court, averaging .253 free-throws per field-goal attempt according to Basketball-Reference.com.
The only other players with a usage rate of 30 or more and a free-throw rate of .27 or lower are Detroit's Reggie Jackson and L.A.'s Kobe Bryant. Maybe Dame should work on his flopping?
Al-Farouq Aminu has cooled off after his hot start from the 3-point line overall, but his fourth quarter shooting has been bad all season, shooting 16 percent on 3-pointers.
Most of Lillard's looks will be contested and that's not going to change. When it works, it's thrilling and fun to watch. And when it isn't, we get what we saw last night and what we've seen from the Blazers most of this season.
Portland's most used line-up in the fourth quarter has been a small-ball line-up with Lillard, McCollum, Crabbe, Aminu and Plumlee, but they've been outscored by 12.8 points per 100 possessions this year in 41 minutes together. Stotts has been flexible with line-ups, searching for combinations that work, but has yet to find a closing unit that he can reliably trust.
A lot was made of Lillard's last-second look at the end of regulation. Stotts said the decision was to get the ball to Lillard and let him create, which isn't a bad idea considering Lillard has been one of the better isolation players in the league during his career. The Mavericks had a super small line-up in the game with Devin Harris on Meyers Leonard, making it an easy pick and roll to switch if Portland had gone that route.
The only thing that stuck with people after the game was that it didn't go in. And while that's not the only thing that Portland's fourth quarter struggles have come down to, it shouldn't be overlooked either.
Meyers Leonard or Noah Vonleh? 
Dusty And Cam co-host Cam Cleeland brought this up during this week's Blazers segment. Meyers Leonard helped boost Portland's offense with 23 points off the bench and got the start at power forward in the second half.
So after starting Noah Vonleh at power forward, what does Stotts do now? My personal opinion is that he stick with Vonleh in the starting line-up while letting Leonard feast on second unit front courts. And if Leonard finishes the game, isn't that what matters anyway?
The starting line-up had been a plus-minus monster until the last two games, which included Lillard suffering a debilitating stomach illness. As long as he and McCollum are in there and healthy, Portland doesn't need a whole lot of extra offense.
Leonard is the better player, but as long as McCollum and Lillard are healthy, it's not a terrible idea to keep Vonleh in the line-up. It also helps his growth by putting him in a better position to succeed by playing with better players.
Dirk Nowitzki takes embarrassment like a champ
Blazers guard CJ McCollum had the best moment of the night for the Blazers in Tuesday's loss to Dallas. But it came at the expense of Mavericks legend Dirk Nowitzki, who had 28 points including a tip-in to send the game into overtime.
This morning, Nowitzki tweeted his reaction to McCollum putting him in the spin cycle.
@CJMcCollum did the old man dirty last night. At least my skating lessons this summer paid off…. https://t.co/61ItvJ1I9S

— Dirk Nowitzki (@swish41) December 2, 2015
Nowitzki took it like a champ and can rest assured that he doesn't have the most embarrassing moment of individual defense in the NBA this season to his credit. That honor belongs to Lakers guard Marcelo Huertas, or as I like to call him, the viral content arm of The Real Lakers of Los Angeles Presented by FanDuel.
[youtube http://www.youtube.com/watch?v=yWlFnLLz02U]
The Commish pays a visit
NBA Commissioner Adam Silver was in Portland last night. He spoke with the Blazers television and radio play-by-play teams during the game.
The Oregonian's Mike Richman has a transcript of his interview with Mike Barrett and Mike Rice on the television side where he commended the Blazers for rebuilding while not bottoming-out.
New Bulls Vs. Blazers!
We have a new episode of the Bulls vs. Blazers NBA podcast with myself and Sean Highkin of NBC's ProBasketballTalk and Bleacher-Report ready for your ears!
[soundcloud url="https://api.soundcloud.com/tracks/235647402″ params="auto_play=false&hide_related=false&show_comments=true&show_user=true&show_reposts=false&visual=true" width="100%" height="450″ iframe="true" /]