The Scouting Report: Dallas Mavericks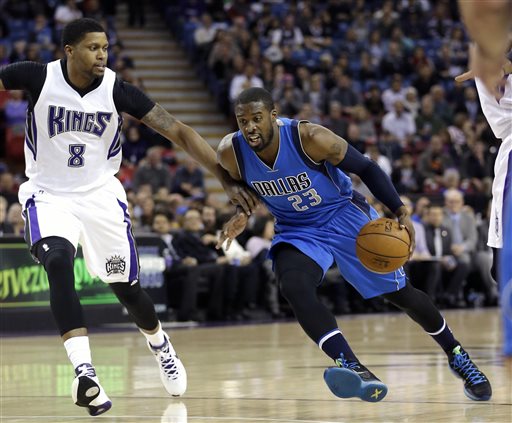 Projected starting line-up: Deron Williams, Wesley Matthews, Chandler Parsons, Dirk Nowitzki, Zaza Pachulia
Everybody around these parts cares about Tuesday's match-up between the Portland Trail Blazers and Dallas Mavericks because it marks the return of former Blazer Wesley Matthews. While the return of Matthews is a newsworthy event, the Mavericks have been one of the more surprising teams to start the season.
Head coach Rick Carlisle and Mavericks legend Dirk Nowitzki have given doubters a reminder of why we shouldn't doubt what they're capable of. As someone who didn't expect much from the Mavericks, they've been impressive so far.
Through 18 games, Nowitzki is .002 away from being a 50-40-90 player. Defensively, you can't expect much from Nowitzki at this stage but offensively he still has some of the best moves in the league. His shooting and shotmaking are still there, though not at the volume he's had in his past. He's still effective but also can no longer shoulder the workload he used to. If you're somehow unfamiliar with Nowitzki's legacy, I recommend the documentary "Nowitzki: The Perfect Shot" about he and his legendary shooting coach Holger Geschwinder which is currently streaming on Netflix. And the amazing thing is he is still producing at a high level.
But a major help for Nowitzki and the Mavericks has been addition of a healthy Deron Williams. It wasn't long ago that Williams was considered one of the league's best point guards, at times making an argument for the best in the league. Although those days have gone, it seems that Williams has found relatively good health with the Mavericks and their forward thinking medical staff. Williams has played in all but one game and is the team's second leading scorer.
Defensively, they've also been better than expected. The Mavericks were in the bottom 10 in the league in defensive efficiency the past two seasons but are 13th in that category so far this season. Their defense has allowed them to survive a slip on the offensive end as they haven't found the same success as they've had there the past few seasons with Monta Ellis as their pick-and-roll catalyst.
Matthews' offensive numbers haven't been very good, shooting below 40 percent from the field and just 31 percent from long-range. Matthews won't be doing his bow-and-arrow 3-point celebration in Portland if he connects, reportedly out of respect for Blazers fans. But it's a good sign that he's been able to play at all and be a productive member of a winning team so soon after injury. When Matthews plays, the Mavericks outscore their opponents by 2.5 points per 100 possessions and they're outscored by 1 when he sits.
Starting center Zaza Pachulia has also boosted their defense and you can see the hole he left in Milwaukee as their defense has gone from one of the best in the league to one of the worst.
Off the bench, the Mavericks have a whole bunch of guards such as JJ Barea and Raymond Felton. Charlie Villanueva brings some shooting at the power forward position off the bench. Chandler Parsons is ramping up his workload little by little but has yet to play over 25 minutes so far this season.