Blazers lose Lillard, then lose to Clippers 102-87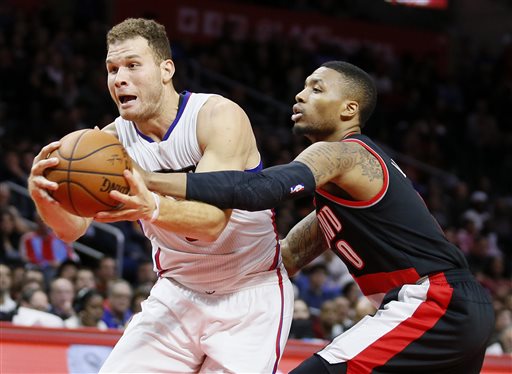 Some nights when you watch the young Portland Trail Blazers, you get a glimpse of what they could be in the future if all goes well. Tonight, we saw how things would go in a darker timeline. Damian Lillard was limited to just 17 minutes thanks to "abdominal pain," and the Blazers struggled to score all night in a 100-87 loss to the Clippers.
Moe Harkless led the Blazers with 15 points off the bench while CJ McCollum had only 12 points, going 4-of-15 from the field (but he did have his first career double-double with 10 assists) as the Clippers defense could focus all their resources towards stopping him.
According to Blazers play-by-play man Mike Barrett, Damian Lillard was fighting through a stomach flu prior to tip-off. Lillard had his head in a towel after being subbed out towards the end of the first half and looked a little sapped for energy even though he tried to keep up a big workload. Portland was running more of their offense through other players even with him on the floor. Eventually, Lillard couldn't continue, leaving the game with 10 minutes left in the third quarter after being unable to get up the floor. His streak of 264 consecutive starts could be in jeopardy.
He played 17 minutes and had seven points on 3-of-8 shooting in his 264th straight start. If his condition doesn't improve, that streak could be in jeopardy.
An injury to Lillard has always been considered this team's worst-case scenario. A scenario, in theory, where they go from plucky up-and-comer to Ben Simmons-ville (or Skal Labissiére-land). For most of Monday, they weren't that bad, even with Lillard clearly limited. But their need for another playmaker was so clear even a blind person could see it. The Clippers blitzed every ball-handler in pick and rolls, especially McCollum, and the Blazers scored a measly 38 points in the 2nd half.
The Clippers began the game on an 11-2 run, going at the Blazers from the get-go, which was the opposite way they started the last meeting between the two teams up in Portland. The Clippers were fresh off blowing a 23-point lead at home in a loss to the Warriors and Monday they played with a much better sense of urgency. Having taken the Blazers too lightly last time, it cost them and they were unable to turn it on late in the game to get the win.
The Clippers bench kept the door open for the Blazers. For as poorly as the Blazers shot in the first quarter, they were even worse to start the second quarter, missing their first nine field goal attempts. But the Clippers bench–despite acquiring recognizable names–is still their biggest weakness. Portland chipped away little by little at their double-digit lead.
And the Clippers starters couldn't turn the tide immediately. Mason Plumlee started eating up all of the boards in sight after being subbed out early thanks to foul trouble. Moe Harkless was taking advantage of smaller defenders in the post and making nice cuts to the rim. Portland's bench deserves a lot of kudos, because without them the Blazers likely don't make this into a game.
Stotts once again went to the Hack-A-DJ strategy against DeAndre Jordan who had been a beast, grabbing 10 rebounds in the first quarter. The strategy was working and the Blazers had a few leads after going down early. But that was until the Blazers executed it terribly late in the first half. Jordan was 2-of-5 at the line in the first half when the Blazers did the Hack-A, but with 37 seconds left, the Blazers fouled Jordan while Wesley Johnson was shooting a wide-open three-pointer, which he made. A replay review showed that Johnson was shooting as Jordan was fouled. Making matter worse, Plumlee was called for a loose-ball foul, leading to a 5-point possession because of the botched hack-a.
But the little things didn't mean much on a night where Portland wasn't close enough for them to matter. The loss of Lillard crippled their offense and even the best execution of Hack-A strategies couldn't help the Blazers.
Notes
McCollum failed to score 15 points or more for the first time this season, though he did notch his first career double-double with 12 points and 10 assists. Adi Joseph of The Sporting News wrote that he, Stephen Curry, James Harden and Paul George were the only players who had done that for their team so far this season. Still, his feature on McCollum and his case as the NBA's Most Improved Player is worth your time.
Lillard wasn't the only point guard to suffer an ailment in Monday's game. Clippers star point guard Chris Paul left the game with a rib strain late in the third quarter and did not return. The Clippers appear to be getting out of a rough patch but an injury to Paul hits them with more adversity.
Noah Vonleh got the start once again for the Blazers. It looks like he'll be the starter at power forward until further notice. He had some nice moments to begin the game but the Blazers fell behind quickly. And it's hard to hold too much of that against the starting line-up when Lillard was far from healthy. I expect we'll see Vonleh start again tomorrow, but Stotts probably isn't going to admit publicly that he's set on anything with the starters. Meyers Leonard could start tomorrow against Dirk Nowitzki and it wouldn't be a surprise, but it looks like playing Vonleh with the starter is a good way to get him minutes while also putting him in places to succeed with better players.
Harkless gave the Blazers a nice lift off the bench. He had 15 points and four rebounds off the bench in 26 minutes. There weren't a lot of Blazers that had good games and it was nice to see Harkless step up when the Blazers needed it. As stated above, Portland's bench played pretty well and the Clippers bench left the door open for them to make a comeback. But their team offense just didn't have enough to take advantage of the opportunities.
Terry Stotts tried to make something happen late in the game going to the Hack-A for several minutes until the two-minute mark of the fourth quarter. DeAndre Jordan had a record 34 free-throw attempts, both a Clippers franchise record and for a Blazers opponent. It dragged out the end of the game, but on a night where nothing was going, Stotts was trying to create some variance, which didn't shake things up enough tonight. Thanks to Ben Golliver of SI.com, we learned that Jordan's 22 missed free-throws were the most in an NBA game since Wilt Chamberlain in 1967.
Stotts is going to have to get creative if the Blazers don't have Lillard, but tonight may have shown us that creativity with line-ups and substitution only matters so much. The Mavericks will be hungry after losing Monday to the Kings in Sacramento. And former Blazer Wesley Matthews will also likely be hungry to get a win and perform well against his former team. The Blazers face the Mavericks Tuesday at 7 p.m. at the Moda Center.