The Scouting Report: Los Angeles Lakers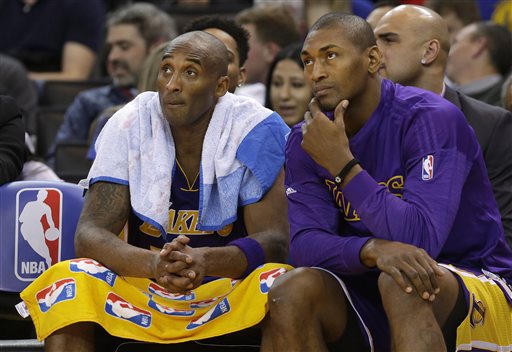 Projected starting line-up: D'Angelo Russell, Jordan Clarkson, Kobe Bryant, Julius Randle, Roy Hibbert
The Portland Trail Blazers faced the Los Angeles Lakers this past Sunday down in L.A. which seems like years ago after the Thanksgiving holiday. After the holiday, the same remains true of the Lakers: with each passing day they become more reality TV show and less a basketball team.
Time Warner Cable's Real Lakers of Los Angeles (courtesy of the Bulls vs. Blazers Podcast) has everything you would want from a reality show. Characters who show no self-awareness, such as Kobe Bryant and head coach Byron Scott, who double down on their ridiculous personas during every confessional. Rather than confess, they continue to drift further from reality.
Bryant still tells reporters that he can go for 30, or 80 points like he used to like this. Scott insists that benching Kobe is "not an option whatsoever." According to NBA.com's John Schuhmann, Kobe Bryant is on pace to have the worst effective field goal percentage in 48 seasons. Effective field goal percentage takes into account the added value of 3-point shots. 48 years ago, there was no 3-point line.
Scott has shown only reluctance to adjusting anything that may disrupt Kobe taking all of the shots and to making a real effort to invest in the Lakers' young players. Marcelo Huertas, a great international player, seems to be a plant for "Shaqtin' A Fool." The Lakers are not just their own reality show but a media empire, entertaining the masses with snackable moments along the way of their own demise.
[youtube http://www.youtube.com/watch?v=yWlFnLLz02U]
We've analyzed how the Lakers play earlier this week. It's not different. As long as Kobe and Scott are there, it won't be different. They still tend to play three wings at the same time that are all looking for their own shot. Bryant, while he has been a disappointment, has been forced to play against bigger small forwards at the age of 37.
Randle has some pop off the dribble, which will be a tough match-up for Meyers Leonard, who is playing his first NBA game in 16 days. Russell is their best passer and usually the only player looking to do so.
It doesn't have to be this way, but that shouldn't be anything to stop you from sitting back and enjoying the carnage if it's going to happen anyway.