Trail Mix: Meyers Leonard to return vs. Lakers, unorthodox pairing working for Blazers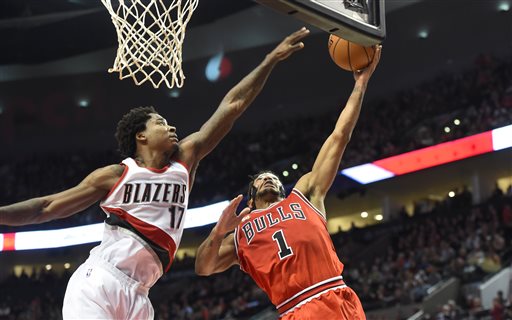 Portland Trail Blazers big man Meyers Leonard will return to the Blazers line-up Saturday night against the Los Angeles Lakers, the big man told media on Friday.
"Now that I'm committed to being back to playing, I'm feeling good," Leonard said."I'm keeping it out of my mind I'm just going to go play."
Leonard, nor head coach Terry Stotts were sure whether the fourth-year big man will have a minutes restriction on Saturday. When asked how he planned to use Leonard, Stotts said he would use him "in the same way they always use him." Leonard was the team's starting power forward in all nine games he's played this season.
Unorthodox Davis-Plumlee working for Blazers lately
The Blazers had a lot of trouble winning games in the immediate aftermath of losing Leonard. Their losing streak went from three games to seven in the four games after Leonard's injury. But lately, the Blazers have found some success with an unlikely big man duo.
It's pretty rare these days to find teams that play two big men together that are essentially no threat to shoot. The Leonard injury forced head Terry Stotts to find more creative answers, but against a deep Chicago frontcourt, the Blazers found success such a combo in Ed Davis and Mason Plumlee. Davis hasn't even attempted a shot outside of 10 feet and Plumlee rarely indulges.
The Blazers held the Bulls to two field goals in the final 10 minutes of Tuesday's loss. The Chicago game was a bit of a slugfest, but perhaps the Blazers have found a defensive combination to suit them in such games. Davis and Plumlee also played down the stretch of the team's win against the Clippers last week, both teams that play mostly two interior-oriented big men.
"I liked there energy more than anything else," Stotts said after the game. "Defensively against Gibson and Noah and later Gibson and Gasol. Going back to the Clipper game, I thought it was a match-up that was suited for them. And defensively, they really worked well off of each other. In a night where we struggled where offense, we struggled, getting stops was going to be important. Hopefully get out in transition a little bit."
Of course, the question you're wondering is when is the other shoe going to drop? How can they survive having not even a midrange spacing threat at the four or five position? They've only played 40 minutes together, but have an offensive rating of 106.2, points scored measured per 100 possessions, and a defensive rating of 74.9.
"I like the defense that they've played," Stotts said Friday." The match-ups that we've had have been good for them, two solid bigs. Defensively, they've played well of of each other. It hasn't effected our offense too much. That was my biggest concern with both of them playing inside. I think Mason has done a good job of floating around the perimeter with is passing and handoffs. Ed's done a lot of dirty work inside."
So why are they so good defensively? They are both explosive athletes with a lot of length. Davis has the speed to keep up with most power forwards and bother shots around the basket. He's also better than most back-ups.
Plumlee has been on a track of continuous improvement so far this season, raising his level of play nearly every night. His presence as the team's starting center has been a huge positive for Portland all season long.
Plumlee says he feels the more comfortable with Davis.
"We're getting a better feel for our flow," Plumlee said after Tuesday's game. "Tonight, he set a lot of the high ball screens coming down in transition. I played below the defense. We're getting a good feel for it kind of on the fly. And I think we could do a better job in our halfcourt sets, knowing where to be and what to do. It's a good line-up because you have two guys attacking the glass, shots getting tipped around, he gets a putback. I think it's a really good line up for us on the glass and defensively too."
"We don't have a lot of game experience, as long as we keep working hard, things are going to be okay." Davis said.
As Plumlee notes, a lot of that impact comes on the glass.
Portland rebounds a much higher percentage of their own misses when Plumlee and Davis take the court, 29.3 percent, which would rank among the top-three in the league.
"There have been games where we've had a lot fewer possessions whether it's offensive rebounding or turnovers," Stotts said. "So, when you get those extra possessions that matters. And they've been good converting on those possessions, so, in a game like Chicago where we can't make shots it becomes even more important."
Both players rate well in terms of ESPN's Real Plus-Minus statistic, which measures overall on-court impact. Davis is 21st among centers in the league, which so far has paired nicely with Plumlee, the Blazers' leader in Real Plus-Minus, who is also fifth among centers in RPM and 20th in the NBA.
So far, the Blazers best line-ups have with Plumlee and Davis have also included CJ McCollum and Damian Lillard with either Allen Crabbe or Al-Farouq Aminu at the three. Other five-man groups haven't rated out so well.
But the Blazers have found a little something with this group and it's worth investigating what is there. A bash-brother type quality in the Plumlee and David combo that could give them another dimension. They nearly got enough stops to beat Chicago and they closed out a win against the Clippers. If the Blazers don't have a lot going offensively, they can try to make things up on the margins rebounds and create variance that way.
The Blazers most-used starting line-up with Noah Vonleh while Leonard was out has played very well, especially lately. The Blazers may have found another look, which is important in a league that is beginning to value malleability–for teams and coaches–more than ever.
Thanksgiving 
According to Ed Davis, he and several teammates spent the holiday with Damian Lillard and his family.
"Everything was good, man," Davis said. "I'm not a pork guy, but the ham was pretty good."
Gerald Henderson was seen putting up shots after the team's loss to the Bulls. Henderson has struggled. He told CSNNW.com's Jason Quick he was doing it for his teammates. 
Also, revisit Jimmy Butler's hilarious quotes about his altercation with Mason Plumlee.