The Scouting Report: Chicago Bulls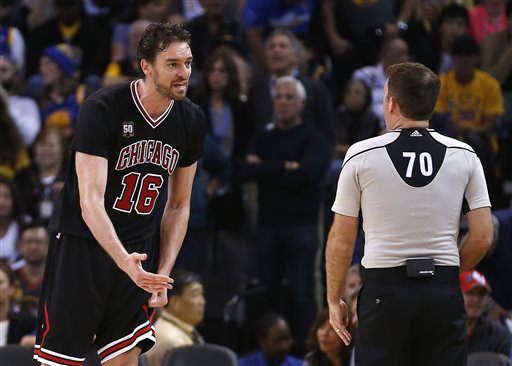 Projected starting line-up: Derrick Rose, Jimmy Butler, Tony Snell, Nikola Mirotic, Pau Gasol
Injuries: Mike Dunelavy (back), Aaron Brooks (hamstring)
The Chicago Bulls come into Tuesday's tilt against the Portland Trail Blazers at 8-4 after losing on the road to the mighty Golden State Warriors. They'll be getting Derrick Rose back into the starting line-up after recovering from an ankle sprain in addition to the double-vision he suffered after a head injury in training camp.
Defensively, Portland's No. 1 task in this game will be containing Chicago's Jimmy Butler. While Rose is still the No. 1 name that comes to mind when you think of the Bulls, Butler is the more capable offensive player at this stage. Butler is far and way the team's leading scorer, averaging 20.7 points per game on 46 percent shooting and 39 percent shooting from long range.
The question of who guards Butler is an interesting one. Lillard will likely guard Rose and CJ McCollum gives up almost three inches to Butler. Aminu is the most likely candidate to take Butler in one-on-one situations, especially if head coach Fred Hoiberg elects to keep Snell in the game. Snell has struggled most of the year offensively and the Blazers can easily hide a smaller defender on him without getting hurt. If Snell has a hot night from the 3-point line to beat them, they'll probably live with that.
In the frontcourt, the Blazers have a battle on their hands. The Bulls are deeper, more experienced and more skilled. Pau Gasol is still one of the best post-scorers in the league with an outside shot that defenses have to attempt to bother. Mirotic–Gasol's teammate on the Spanish National Team this summer–has cooled off after a red-hot start but is still a unique offensive force, especially in transition and with the spacing he provides at power forward.
The biggest story regarding the Bulls frontcourt this year was the decision to move Joakim Noah to the bench where he usually plays alongside Taj Gibson. The Bulls have had problems playing Noah and Gasol together since Gasol's arrival. The starting line-up has had more success and offensively they have more room to operate. So far the success for their second unit has been a little more measured, as the Bulls are breaking even against their opponents per NBA.com when Noah is on the floor. The toughness and physicality of the Bulls second unit is something to watch against Ed Davis and co.
Perhaps rather than try to match the size that Chicago has, this may be another game where Stotts moves to a smaller line-up to try to speed up the game against an older, bigger, Bulls team. He's done it before and it wouldn't surprise me if he did a similar thing tonight.