Blazers big man Meyers Leonard progressing after shoulder dislocation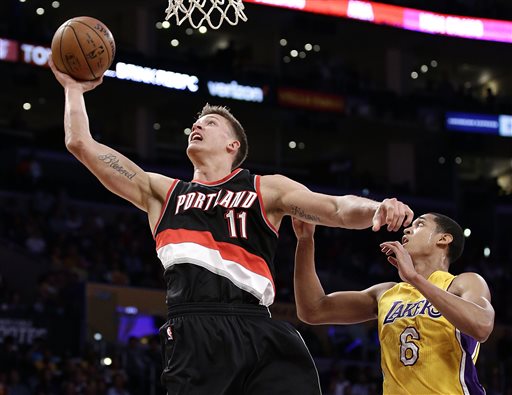 Portland Trail Blazers big man Meyers Leonard has been out Nov. 12 when he dislocated his left shoulder against the San Antonio Spurs. He'll miss Tuesday's game against the Chicago Bulls, but he is progressing to 1-on-1 workouts and hopes to get into 3-on-3 and 5-on-5 later on in the week.
Leonard worked against Chris Kaman in 1-on-1 games for the first time since the injury during Monday's practice. He said he'll know more when he wakes up in the morning and judges how he feels after introducing live contact for the first time.
"My strength and range of motion is really good in the weight room," Leonard said. "But when it comes to holding of Kaman in the poset. With a forearm or beginning to introduce boxing out and guarding and things of that nature that will be more of a sign. After today I felt really good and strong after I was playing. I'm happy with the progress we've made considering it hasn't been what everyone thought it was going to be."
Leonard has been working in the weight room by doing shoulder specific lifts as well as full body lifts to get his body back "in sync." Leonard has also been keeping his wind up by doing sprints, running stairs before Portland's games on the road and even doing full court sprints. He's been shooting jumpers before games as the left shoulder luckily doesn't affect his shooting arm.
The outside-shooting big man doesn't know whether he will be able to make enough progress to be back on Saturday when the Blazers host the Lakers.
"Not sure, it's hard to put a timeline on it," Leonard said. "Again it kind of depends on when we re introduce these new things, what happens. I'm hoping in the next few games that I'll have a chance to come back."
Leonard probably won't wear a brace on the left shoulder and admits that when he comes back it will be more of a mental battle, to block out the doubts about his shoulder.
"When I talked to the doctors and talked to my agent and I'm sitting there thinking about it with myself, I just have to let it go and go play," Leonard said.  "Because if you don't then you think about it and that's when bad things happen. So I just go out play and be free and continue to re-introduce things as this week progresses."