The Scouting Report: at Los Angeles Lakers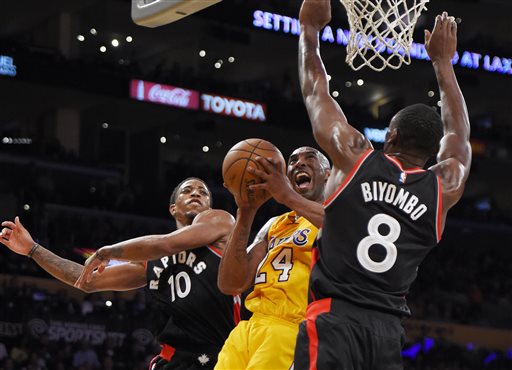 Projected starting line-up: D'Angelo Russell, Jordan Clarkson, Kobe Bryant, Julius Randle, Roy Hibbert
New arrivals: Roy Hibbert, Lou Williams, Brandon Bass, Larry Nance Jr.
One last ride. This season, which could and should be about so much more for the Lakers and their future, has mostly been minimized into a curtain call for Kobe Bryant. Thanks, Byron Scott. Bryant is more or less healthy after missing most of last year with a leg injury.
So far this season, Bryant has averaged 31 minutes per game in the nine games he's played. That's a little ridiculous for the 38-year old. Meanwhile, No. 2 overall pick D'Angelo Russell is averaging 25.5 minutes per game, just a hair above sixth man Lou Williams.
The way Byron Scott has used Russell has been reprehensible. He's constantly called out the defense of their young players, even threatening to bench their younger player if they didn't improve their defense. This is the type of hollow threat that is completely unnecessary for any team's head coach to deliver, but especially a team in a clear rebuilding phase like the Lakers. Playing Brandon Bass and Lou Williams more isn't going to get this team where Lakers fans want it to be.
In terms of the what the Blazers have to prepare for, the best play the Lakers have is one they don't run enough: pick and rolls with Russell. They'll get Kobe the ball on the block and Jordan Clarkson has essentially earned a green light at all times, leading the team in total field goal attempts.
This team is one full of one-on-one players and the only way that the Blazers will lose this game is if those players get hot. A Nick Young explosion off the bench could be around the corner and Williams can still draw fouls and get baskets with the best of them. Williams may even be their best player at this point.
The match-up between Julius Randle and Noah Vonleh should be a fun one. Randle is an explosive ball-handler and player, which will be a challenge for Vonleh who has a similar skillset though he's not quite as explosive as Randle. Vonleh has length to bother him defensively as well as athleticism to keep up better than most people on the Blazers roster, save for for Al-Farouq Aminu.
This Lakers season isn't what it should be. They're 2-10, but they got their last win on a Sunday in their home white jerseys against a good Detroit team.
This is the type of scenario–a road game against a bad team after a good win vs. a good team–screams letdown for a young, talented team like the Blazers. It will be interesting to see if they can hold off that letdown.