The Scouting Report: Los Angeles Clippers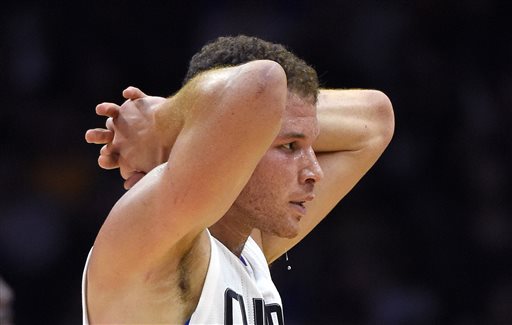 Projected starting line-up: Chris Paul, Jamal Crawford, Paul Pierce, Blake Griffin, DeAndre Jordan
Injuries: JJ Redick missed Thursday's game vs. Golden State with back spasms
New additions: Pierce, Lance Stephenson, Josh Smith, Pablo Prigioni
It would be impossible to discuss the Los Angeles Clippers coming into Friday night's game at the Moda Center without discussing the game that just finished. The Clippers blew a 23-point lead at home to the Golden State Warriors, the defending NBA champions and their arch rival. So to say that they'll be drained after having that happen before jumping on a plane to Portland isn't a bridge too far.
The Blazers know what that's like after blowing a 15-point lead against the Rockets.
But as far as things that Portland has to be ready for, if Redick is out of the game it takes one dimension out of their attack. His shooting and off-ball movement causes problems for all teams. Crawford is a playmaker and a tough guard in his own right. A potential match-up between he and CJ McCollum is going to be fun and equally stressful for both on the defensive end.
The Blazers are going to get pick and rolls run against them until their heads spin. The Paul-Jordan pick and roll is always deadly, but even more so with shooters surrounding them like Pierce and Crawford. Blake Griffin post-ups are the Clippers' go-to play, but the Blazers have been so shaky in the halfcourt that the Clippers will be able to diversify their attack. Paul has generally outplayed Lillard in their match-ups.
Griffin has become the best player on the Clippers. Maybe he has been for a little while now. Who guards him for Portland? It makes sense that Noah Vonleh will get the first crack at guarding Griffin but Al-Farouq Aminu will likely get a chance. Chris Kaman has gotten starts recently with Meyers Leonard missing games with a shoulder injury, but he doesn't have much of a shot guarding Griffin or Jordan in the air.
Griffin post-ups are gold for this offense, but they can also get Portland's switching pick and roll defense into situations where guards end up on him. It's not good for a defense for Blake Griffin to catch the ball on the block, period. The Blazers may have to put bigger defenders on players like Paul in pick and rolls so that they're more equipped to deal with those switching situations.
The bench for the Clippers has improved, but with Crawford starting it will set up an interesting match-up against Portland's bench. Austin Rivers has the green light, which can sometimes mean good things but is still a rather shaky proposition. Josh Smith can make plays with his passing and hasn't been the 3-point shooter he was to close the season in Houston.
It seems like Stephenson is in the dog house, getting one minute of playing time over the last two games. But maybe in the back-to-back situation, Stephenson gets some run. Wesley Johnson also fills in on the wing.
The Clippers are shorthanded, so Portland has a very good chance to take leads when the second unit for each team is on the floor.
Both teams are need of a bounce-back win. This game, on some level, will come down to how the Clippers respond to the disappointment of Thursday's loss. The Blazers should have more pent up angst over losing, coming into the game with a seven-game losing streak.