The Scouting Report: at Houston Rockets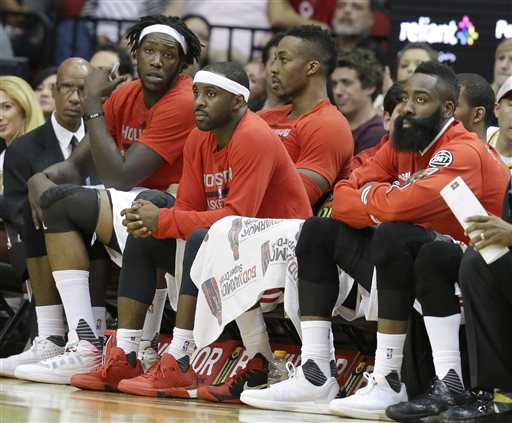 Projected starting line-up: Ty Lawson, James Harden, Trevor Ariza, Terrence Jones, Dwight Howard
THEY JUST FIRED THEIR COACH: JB Bickerstaff replaces Kevin McHale Wednesday after a 4-7 start as the Rockets take on the Blazers.
Houston, evidently, has a problem. After a 4-7 start and playing some of the league's worst defense, the Houston Rockets reportedly fired head coach Kevin McHale this morning. The Rockets were a dark horse championship contender before the season, becoming a sexy pick to win it all after adding Ty Lawson to a team that went to the Western Conference Finals team.
In practice, the addition of Lawson hasn't been quite as perfect. The Rockets–a team with one-man elite NBA offense James Harden–is 26th in offensive rating. They're 28th in defensive rating and it's pretty remarkable how they've failed on that end after skyrocketing into the league's top-five in points allowed per 100 possessions.
Harden's defense was fixed, they said.
https://vine.co/v/iuW1vhqz6Dr/embed
It's a bummer for Rockets fans who were expecting this team to jump out of the gates in a battle for one of the West's top seeds. While the bottom of the West may not be as good as it has been in year's past, the top of the conference is as good as ever with Golden State, San Antonio, the Clippers and Oklahoma City.
A 4-7 start isn't going to keep you out of the playoffs at this stage, but it's not where you want to be when your expectations are that of title contention.
One thing that I've seen in watching the Rockets as well as talking to people who watch them much closer is Harden re-learning how to play without the basketball. Save for a few games where Jeremy Lin went off early in his Houston tenure, Harden has always been the focal point of Houston's offensive attack. He still is, but the addition of Lawson requires that he get the chance to create with the ball in his hands. Obviously, that means it's not in Harden's hands it is a little bit of a challenge.
Harden has shot poorly from long-range to begin the season but part of it may have to do with where he is playing and who he is playing with.
Jason Terry was still getting a decent-sized chunk of minutes at 38 before McHale got fired. Young big man Clint Capela is emerging as a finisher in the pick and roll and as a defensive rim protector. 2nd year man K.J. McDaniels is a candidate to get more playing time under Bickerstaff as he saw his most extended run of the season in their home loss to Boston on Wednesday with a whopping 10 minutes.
As far as the rotation goes, everything except for the starters could be up in the air now. Teams generally come to play in a game after their coach is fired. Portland should expect nothing less from the Rockets tonight.