The Scouting Report: at San Antonio Spurs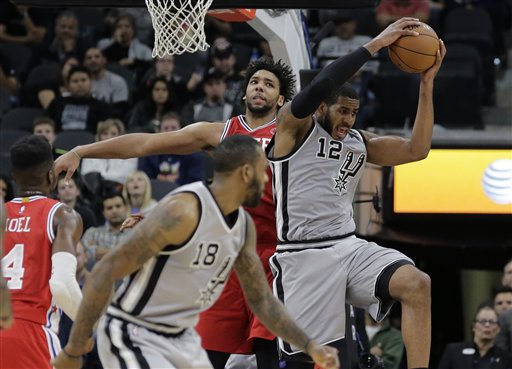 Projected starting line-up: Tony Parker, Danny Green, Kawhi Leonard, LaMarcus Aldridge, Tim Duncan
There's really not a whole lot to update you on with regards to the Spurs. The Blazers saw them only five days ago in Portland for LaMarcus Aldridge's lone trip to the Pacific Northwest this season. They added another win against the 76ers over the weekend to extend their winning streak to four games.
In the meeting back in Portland, the Spurs bludgeoned the Blazers from the midrange on their way to a 113-point night. The Spurs shot 56 percent from the field on Wednesday and a red-hot 47 percent from long-range. It goes without saying that the Blazers can't allow that again if they want to win. But at this juncture, such points are much easier said than done.
The Blazers got worked again defensively last night against the Hornets so it's not as if they have a new-found confidence on the defensive end heading into this match-up. Ball-handlers are posting a league-high points per possession when playing the Blazers, something Kawhi Leonard will no doubt take advantage of.
In addition to the excellence in the midrange, the Spurs also exposed the Blazers lack of discipline. They continued working the ball around at the end of the shot clock and would sometimes come up with high quality looks at the basket. Portland's defense has struggled against everybody and the Spurs offense pushes everybody to the edges with their ball-sharing style.
Offensively, the Blazers got nice games from Damian Lillard and CJ McCollum but just not enough from anyone else on the night. It would be interesting to see if Stotts goes with Noah Vonleh at the starting power forward spot once again. The combination of Duncan and Aldridge, while big, may be too mobile for Chris Kaman to match-up. Adding Vonleh at least forces Aldridge to play him out on the perimeter.
Al-Farouq Aminu probably won't get in the silly foul trouble he got in against Charlotte on Sunday. Aminu's foul trouble definitely helped Charlotte's Nicolas Batum have a big night. Aminu has a tough assignment Monday again when he faces Leonard, who has scored 20 points or more in four straight games. Leonard missed the Spurs' win Saturday against the 76ers but is expected to play tonight.
The Spurs bench also schooled the Blazers in the previous meeting. The combination of Mills, Diaw and Ginobili helped the Spurs extend their lead . And at least until Tony Parker returns to form, the Spurs starters have actually been better with Patty Mills on the floor instead of Parker. The Spurs are being outscored by nearly 11 points per 100 possessions with their starters on the floor but are +18 per 100 possessions with Mills in.