The Scouting Report: at Charlotte Hornets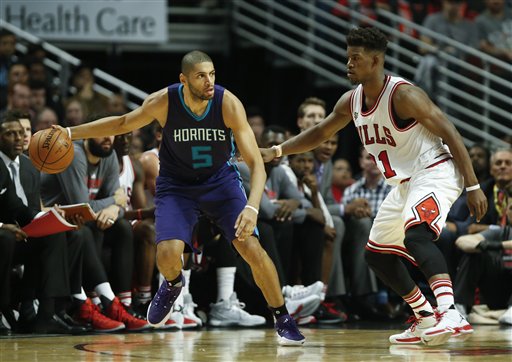 Projected starting line-up: Kemba Walker, P.J. Hairston, Nicolas Batum, Marvin Williams, Al Jefferson
New arrivals: Nic Batum (via trade), Frank Kaminsky (via draft), Jeremy Lin, Jeremy Lamb
Injuries: Michael Kidd-Gilchrist (torn labrum) out of season, Cody Zeller (ankle) is questionable
Things were supposed much worse for the Charlotte Hornets after a preseason injury cost Michael Kidd-Gilchrist his 2015-16 season. Now the injury isn't so much the symbol of a lost season as much as how much better things could be if he were there.
And a lot of the credit has to go to Batum. Often maligned in Portland for his inconsistent scoring output on a team full of scorers, Batum has stepped up in the first nine games for the Hornets, leading the team with 16 points per game, just under seven rebounds and under four assists per game. And through those nine games, Batum is shooting 43 percent on 3-pointers, continuing the hot streak he closed the regular season on last year in Portland.
Batum had a huge game in their loss against the Bulls, all after spending the whole day worried about his sister and family members in Paris.
But Batum wasn't the only addition to this Charlotte team in the offseason. After making a big splash in free-agency two summers ago by signing Lance Stephenson, the Hornets took a different approach in trying to build their team by adding to their depth across the board.
First, they traded Stephenson in the offseason and got Spencer Hawes, an NBA player at center and a decent shooter who never fit in well with the Clippers. They picked up guard Jeremy Lamb from Oklahoma City for Luke Ridnour and a second round pick. They added Jeremy Lin on a super cheap two-year deal to give them a boost off the bench.
Offensively, they've been miles better than they've been the past two seasons. A lot of that has to do with adding a capable two-way wing in Batum but it also has to do with their added depth on the bench.
Kemba Walker and Al Jefferson are still two of the biggest names that come to mind. Walker continues to shoot it okay while being the team's on-court leader. Jefferson can still draw a double team on the block with the best of them but is clearly starting to slow down a little bit. Batum has been a nice boost to the Hornets by allowing them to succeed without it all coming through Walker and Jefferson.
The plan has worked despite the unfortunate circumstances that were presented to them with the MKG injury.
The Eastern Conference is considerably better this season and they might be deeper in the middle-to-bottom of the conference. At 4-5, the Hornets are not your traditional East pushover. It's definitely the best looking game left on the road trip for the Blazers to get a win, but by no means will it be easy.
The Portland defense, which has struggled, will have another test on their hands.
This will also be a homecoming for Portland's Gerald Henderson who spent six years in Charlotte as well as Noah Vonleh who spent his rookie season in Buzz City.