Batum scores 33 in Hornets win over Blazers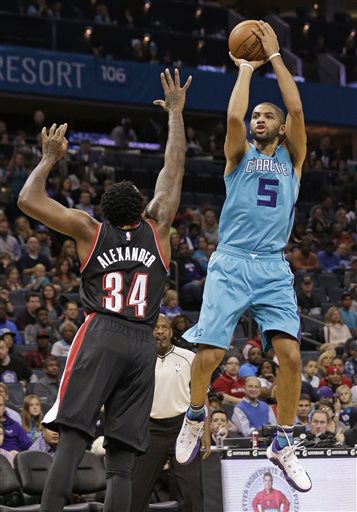 The Portland Trail Blazers lost their fifth straight game, extending their season-long losing streak, Sunday afternoon in Charlotte against the Hornets 106-94. Former Blazer Nicolas Batum led the Hornets with 33 points, six assists and five rebounds. Damian Lillard had 23 points, eight rebounds and five assists in the loss. The Hornets shot just under 50 percent and had 29 assists as a team.
Terry Stotts changed up his starting line-up on Sunday against the Hornets. Against the prodding, more bruising Memphis Grizzlies, Stotts went with veteran big man Chris Kaman who to that point in the season had barely seen the floor. He played well, but against the small-ball styled Hornets, he went with second-year man Noah Vonleh at power forward.
The Blazers went to Vonleh on their first possession, where he airballed a shot off a post-up. The Blazers went to him again on the left block, this time it ended with a sweeping hook. We've not seen Vonleh get this much meaningful playing time or use so many possessions. He was called for a cheap foul on a lay-up and fumbled a few passes, but overall continued to stoke curiosity about what is there.
The Blazers defense is starting to leave little doubt about what is there and it's not much. Mason Plumlee got abused in the post by Al Jefferson, as did every other Blazers big who played, including Cliff Alexander who got his first minutes of his young NBA career. Jefferson had 20 points at halftime, as did the former Blazer Batum. Batum had 20 points and a team-high six assists at halftime, lighting the Blazers up from everywhere on the floor.
Lillard looked more comfortable with the wrap on his right thumb. He had 19 points at halftime, almost single-handedly keeping the Blazers in the game. The Blazers went into halftime down by 26 and showing little signs that they could slow down the Hornets.
The second half was better on the defensive end, however the Blazers couldn't make their improved defense in the third quarter count for anything. They got the Hornets lead down to 22 after letting it get to 29.
Then in the fourth quarter, the Blazers started to combine stops with effective offense. After going cold in the middle of the game, McCollum got red-hot and Allen Crabbe continued his efficient offensive output coming off the Blazers bench. The big-man duo of Cliff Alexander and Ed Davis did a very effective job of contesting shots around the rim and helping Portland get those key stops. Alexander's Blazers debut ended with two points, four rebounds and one block in 16 minutes.
The Blazers got the lead down to six points with just over three minutes left in the game. But then Batum got things back under control with five straight points and the Hornets never looked back. Lillard couldn't find his footing in the final period and McCollum couldn't carry the Blazers offensively down the stretch.
Notes
Harping on the defense is a broken record and at this point and doesn't need more description. They're inconsistent in the pick and roll, ball handlers can still more or less get what they want. They came into Sunday ranked 24th in points allowed per possession, a mark which probably won't get any better when the numbers are updated tomorrow. Their big men, particularly Plumlee, has been a disappointment on that end. Plumlee had one of the emptiest 13 rebound performances I can remember. He has improved his free-throw shooting, going a perfect 4-for-4 at the line. Noah Vonleh still shows his age at times. Portland's best defense on Sunday was with Davis and Alexander in at the two frontcourt spots, which may be worth taking a longer look at. As long as Leonard is nursing his shoulder, Alexander is a guy who will get time against more small ball-oriented teams. It could be a potential tire fire, but while Leonard is out it would be fun to see what a line-up of Alexander and Vonleh could do.
Is this Allen Crabbe's new normal? Portland's second unit was mostly garbage in the first half but Crabbe was about the only exception. Crabbe finally missed a shot but was key in their big fourth quarter. Crabbe finished with 17 points, two assists and two rebounds on 8-of-11 shooting in 27 minutes off the bench. I was talking about how Crabbe's growth could potentially get in the way of Gerald Henderson getting minutes while Henderson was rehabbing and the minutes are starting to reflect how much better Crabbe has gotten. Or at least how confident he is. Henderson played just 6:34 and more or less struggled during his time on the court.
The Blazers won the rebound battle 46-37.
The Hornets made nine 3-pointers compared to just five for the Blazers. Batum had five 3-pointers by himself.
Batum looks very comfortable in his new role and it's a huge reason why the Hornets are playing better than expected as well as a reloaded bench. He's posting a career-high usage percentage, meaning he's ending possessions at a higher rate than he has before in his career. As much as fans demanded Batum score more, the only starters who used that many possessions were Aldridge and Lillard.
The Blazers face the Spurs Monday in San Antonio at 5:30 p.m. local time on CSN.
The Hornets also went with their teal road uniforms at home instead of their traditional home whites. No doubt it was a nod to Batum's native France in the wake of the horrible Paris attacks to wear something close to what les bleus wear.