The Scouting Report: at Memphis Grizzlies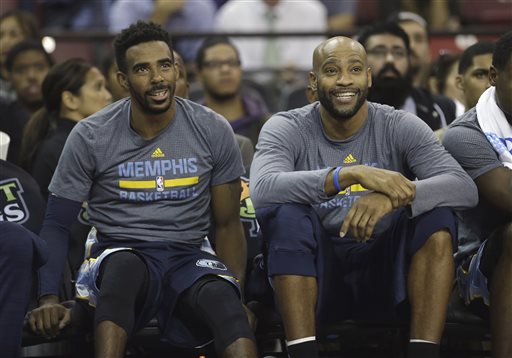 Projected starting line-up: Mike Conley, Courtney Lee, Tony Allen, Zach Randolph, Marc Gasol
TRADE: Earlier this week, the Grizzlies traded noted-Blazers killer Beno Udrih and second-year man Jarnell Stokes to the Miami Heat for veteran guard Mario Chalmers.
After seeing them just eight days ago, things haven't gotten better for the Memphis Grizzlies. Now losers of four straight games, the Grizzlies are simply looking to right the ship.
As we noted above, they made a trade by adding Mario Chalmers to their backcourt. Chalmers brings them an above average 3-point shot for most of his career, though he struggled last year and in the early part of this season. He also allows Mike Conley to play off the ball or guard somebody else other than the opposing point guard. Not that Conley is a liability, but it allows him to get more of a break, especially if he and 'Rio play together.
Chalmers is expected to make his debut tonight. Despite a rough last two seasons, the Grizzlies hope that Chalmers can be the type of player he was when the Heat were a championship team.
As far as the other big factors for Memphis, Marc Gasol is improving. Still struggling and having the worst season of his career in terms of efficiency, but improving. His true shooting percentage is up to 51.5 with the second-highest usage rate of his career. Gasol has been dealing with a neck injury for weeks which may be part of his struggles. Conley is shooting 27 percent from 3. At some level, it comes down to the performance of their two best players. And so far, both of them haven't been at the level we've come to expect them to be at.
Tony Allen hasn't suddenly learned how to shoot. Jeff Green has possibly gotten worse as his shooting percentages are down across the board. His minutes are also down to 22 minutes a game as the arrival of Matt Barnes has cut into his playing time. Barnes gives them more veteran know-how on the wing, but he's also 36 years old and it shows at times. There's a reason the Clippers shipped him out of town to acquire a younger Lance Stephenson.
The Grizzlies are just looking to get right after four straight losses including one at home this week to the Warriors. They've played good teams all along the way and will be getting some help tonight in the form of Chalmers. The Blazers are in the midst of a three-game losing streak and will be without Meyers Leonard.  The Grizzlies are going to be desperate for a win after losing four-straight and have a good chance to get one at home.
At the very least it should be a good start to your sports weekend at 5 p.m.