Portland big man Meyers Leonard leaves game vs. Spurs with dislocated shoulder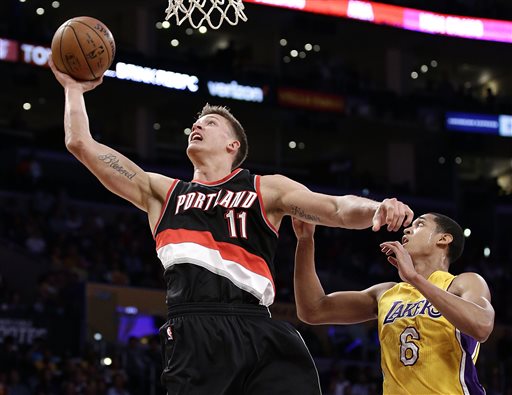 Portland Trail Blazers big man Meyers Leonard suffered a dislocated left shoulder in the third quarter of Wednesday's game against the San Antonio Spurs.
Leonard dislocated the shoulder while fighting for rebounding position on a rebound. The Blazers have ruled him out for the rest of the game.
Here's video via YouTube user watchnba201415.
[youtube http://www.youtube.com/watch?v=b0j-2lzdLQY]
Leonard had seven points, five rebounds and two assists in 24 minutes while guarding LaMarcus Aldridge for most of his return to the Moda Center.
Leonard was averaging 8.6 points, 4.4 rebounds and 1.6 assists per game coming in to Wednesday's game.
The Blazers trailed the Spurs 81-75 after three quarters.
Leonard didn't return to play in the game but he did return to the bench wearing an ice pack on his left shoulder to watch the duration of the game.
We'll be watching how Leonard's injury develops. If there is a torn labrum or something else that requires surgery, like the injuries for Michael Kidd-Gilchrist or Kevin Love,  his season could be in jeopardy.