The Scouting Report: Memphis Grizzlies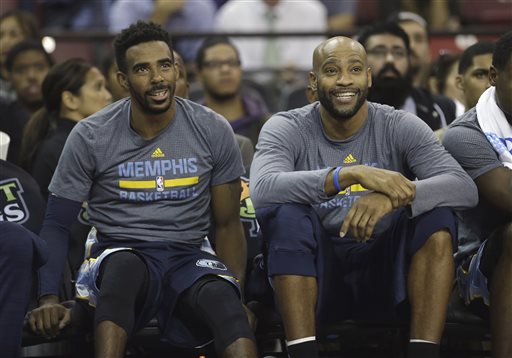 Projected starting line-up: Mike Conley, Courtney Lee, Tony Allen, Zach Randolph, Marc Gasol
New additions: Matt Barnes, Brandan Wright
After defeating the Portland Trail Blazers in the first round last season, the Memphis Grizzlies grabbed a 2-1 series lead against the Golden State Warriors in the next round. They didn't win another game after that and they have changed very little, which is the Memphis we've come to know over this decade.
As the rest of the league moves towards smaller, more versatile line-ups, the Grizzlies doubled down on their grit-and-grind attack. They added a center with their mid-level exemption in Brandan Wright to replace Kosta Koufos. Then they added another tough guy on the wing in Matt Barnes.
The Grizzlies are 3-2 coming off of a win against the Kings without DeMarcus Cousins. Let's be clear: even being above .500 in the first five games, the Grizzlies have not looked good. The suffered brutal blowouts at the hands of the Cleveland Cavaliers at home and then suffered a similar fate at the hands of Steph Curry and the Warriors earlier this week.
Those two games definitely skewed their early season numbers but their other three wins have come against the Pacers, Nets (barf) and the Cousins-less Kings.
The Blazers have a good chance to get a win tonight, despite playing the second game of a back-to-back and their recent history against the Grizzlies. Mike Conley outplayed Damian Lillard in the playoffs and Lillard will certainly be eager to perform in that match-up. We'll definitely see Tony Allen on Lillard some as well.
It will be interesting to see how Memphis coach Dave Joerger schemes to take away Portland's guards. The Jazz tried to last night with defenders of all sizes and they couldn't do anything. The Grizzlies have many guys they can throw at Portland's scorers, including guys like Barnes off the bench.
Once again, going small may be Portland's best friend in this game. Memphis slows things down and they want to play through their big men. Portland isn't built for that type of game and they'll likely be without Meyers Leonard's ability to stretch the court, which will make it easier for Memphis to suck the life out of their offense.
Portland's defense has been better than expected, ranked 11th in the league coming in in points allowed per possession. The Conley-Gasol pick and roll will be a tougher play to guard than they've had to deal with so far this season. But if Portland can limit the Grizzlies' easy baskets in transition, that should give them a chance tonight.