Moda Center Food Review: Hook Line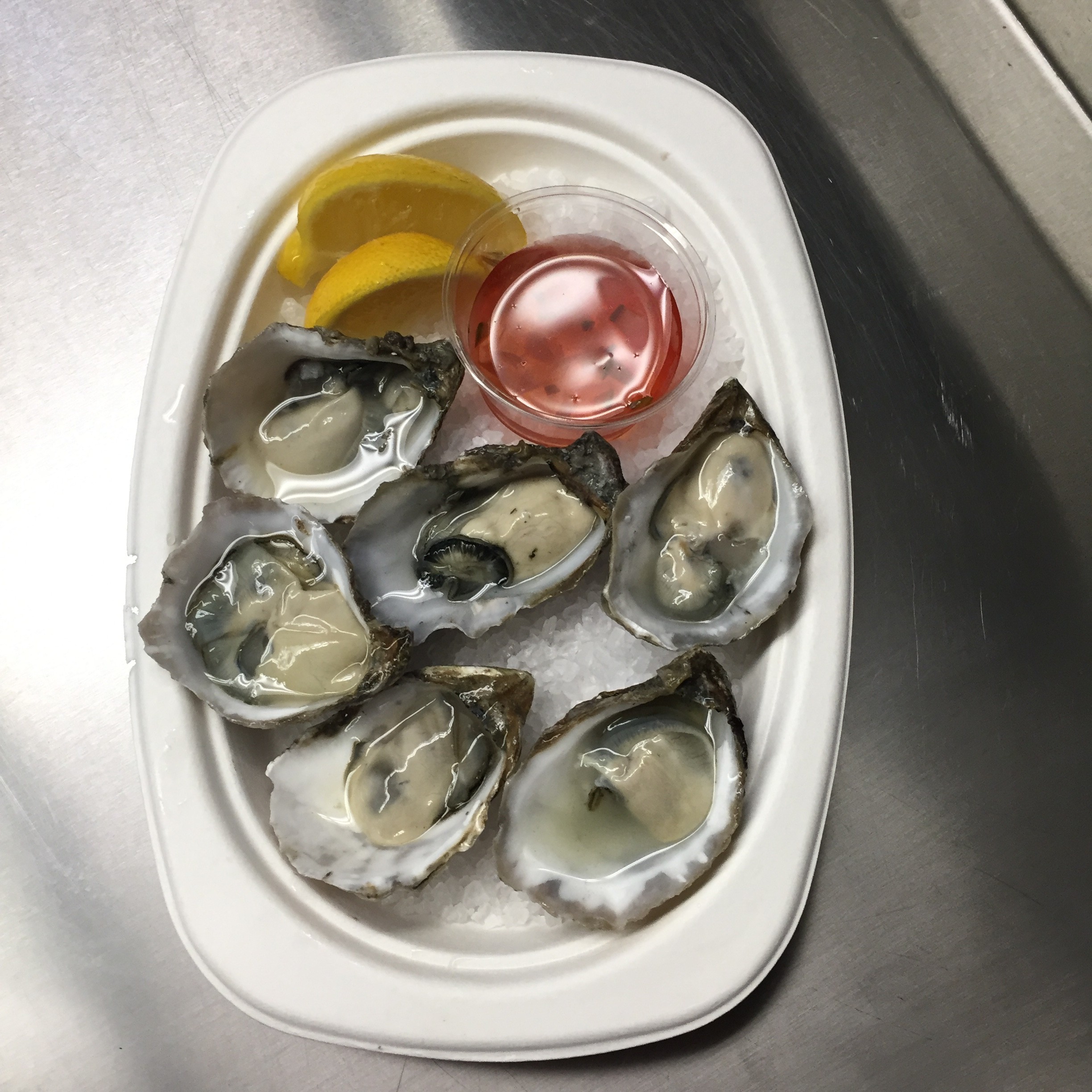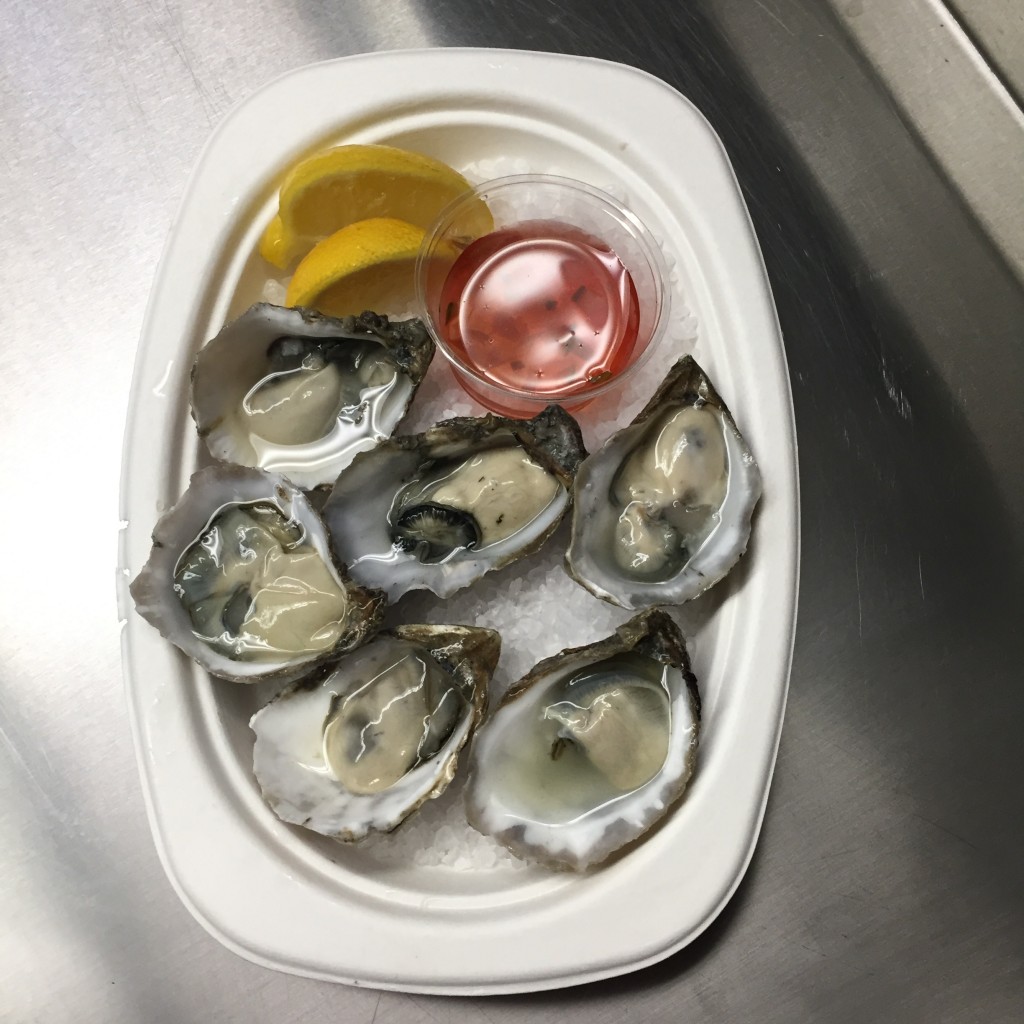 Previous Moda Center food reviews: 
As if the existing food options at the Moda Center weren't enough, the Portland Trail Blazers have expanded their culinary offerings for yet another season. And yes, that's right, you can eat half shell oysters while you watch Damian Lillard and CJ McCollum light it up.
"Hook Line" is the new seafood-centric spot created by Levy Restaurants at the Moda Center.
And while enjoying your oysters and basketball, you can also live to tell about it. I ate the oysters roughly 5 hours ago and am still here, writing this review. It's 15 bucks, which to2 my knowledge is the highest-priced single food item in the entire arena. And this ain't a main course, as I'm sure you can tell by now.
The mingonette sauce gives the oysters a very clutch kick of spice and flavor. It also comes with not one, but two slices of lemon. Seafood without a lemon or a lime just may as well not be seafood at all.
I'll be the first to admit that when I heard "half shell oysters at a basketball game," I cringed. But you must give credit where credit is due and I acknowledge that it's actually not bad. In fact, I enjoyed my oyster experience quite a bit.  They were served ice cold and you could still taste the freshness of the ocean in the oyster–a key sign that what you're eating won't make you sick in my years of oyster consumption.
The creators of the Hook Line concept also deserve credit for being transparent with where the oysters are stored prior to serving. They're front and center when you make your order, sitting on ice. In an arena, people will already be skeptical about oysters. Having the product they're consuming right in front of them a good way to break down that barrier.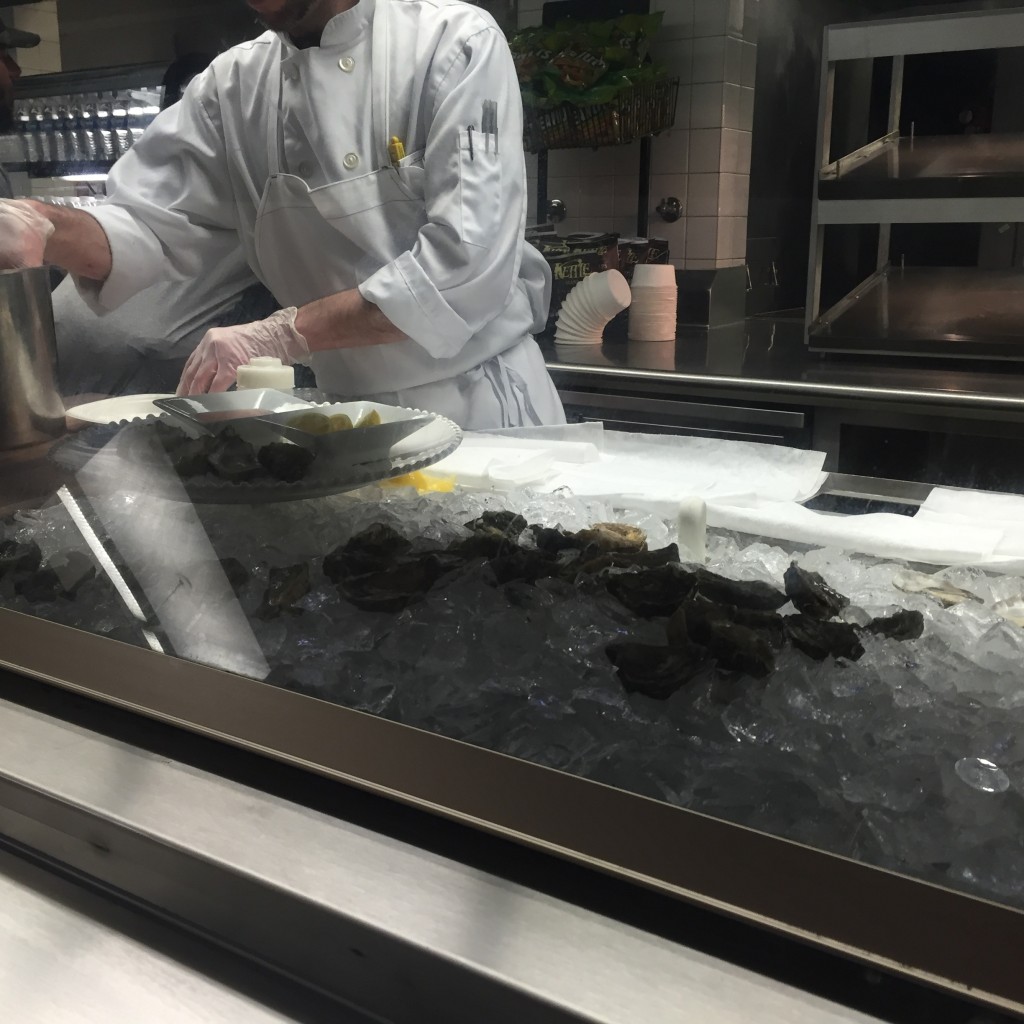 If you want to be really particular, I'm sure you can ask that they shell the oysters when you order, something I wasn't eager enough to do. They do set aside at least six (the normal serving size) that already have the top shell off for reasons of time. As they always say, you never want to be caught with your oysters still in their full shell.
Back when I lived in Seville, Spain, there was a bar in my neighborhood of Triana that served only one kind of beer for a buck as well as half-shell muscles. Therefore, I'm a little biased to pairing the my half-shell bivalves with a beer. Alas, I am working so those of you going to the game will have to tell me if the pairing is all I thought it would be.
But if you're scared of the oysters and still want a little taste of the sea, go with the fish and chips.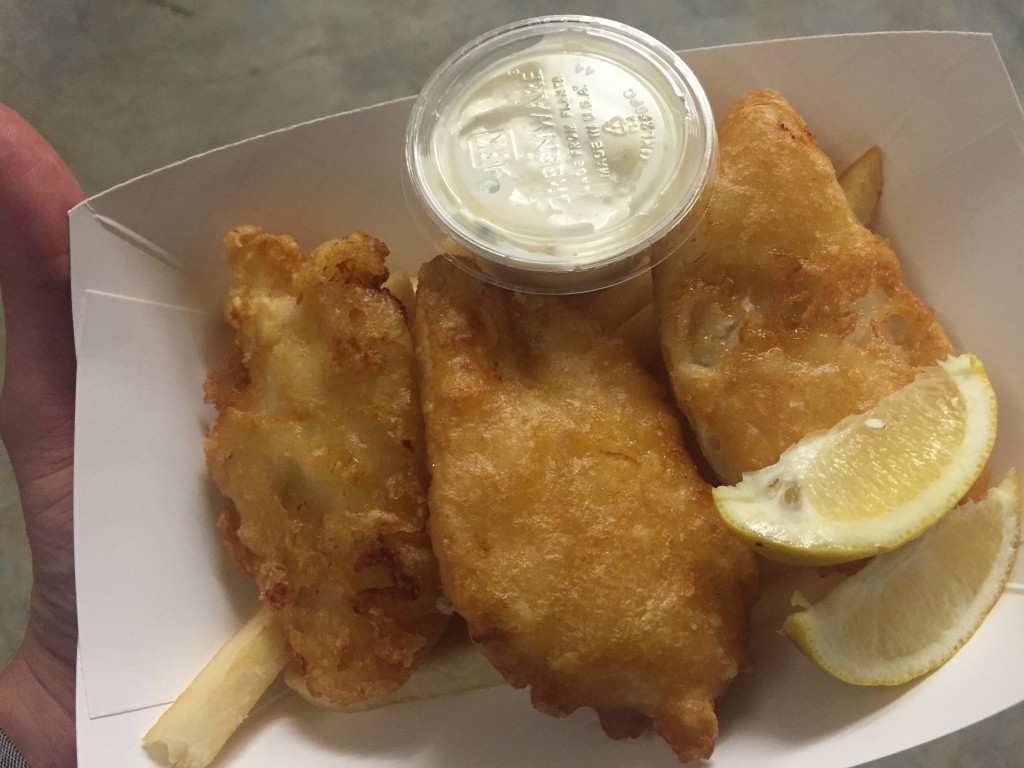 Excuse the edge of my hand in the picture, but this is definitely a more filling option. The oysters–keeping it absolutely 100–are just a good drinking snack. Get the oysters with a group, don't get them for yourself. If you do you're going to be hungry, unhappy by the game ends no matter the result and wishing that you had a Chalupa coupon to hit Taco Bell on your way home.
(Taco bell is disgusting)
But I hope this helps many of you who are yearning for something different than your average arena food or even just something fresh and different from some of the Portland-based options that have become staples at the Moda Center.
Note: 
As I've reported before, they've added a Bunk Sandwiches location to the 100 level to add to their 300 level and club level locations. The Blazers also added a Cha! Cha! Cha! in the area adjacent to the 300 level bar. In terms of food options at the Moda Center–as the kids say–it's lit.
I've been alerted to rumors and seen screen shots that the Blazers unveiled a tattoo parlor in the Moda Center via their Snapchat story. I have yet to see it in the 100 level concourse. If you know where it is, have seen it or gotten a tattoo, please send an email to erik.gundersen@columbian.com.