VIDEO: Blazers F Meyers Leonard leaves game vs. Jazz, will not return with right ankle sprain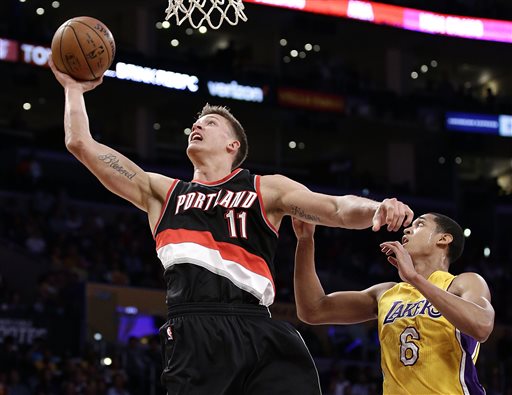 Portland Trail Blazers big man Meyers Leonard sprained his right ankle in first quarter of Wednesday's game against the Utah Jazz and will not return, according to the team.
UPDATE 10:37: Jason Quick of CSNNW.com reports that Leonard heard "a pop," and that his status for Thursday against Memphis is unclear.
Leonard injured his right ankle late in the first quarter against the Utah Jazz. After a jump shot, Leonard came on Trevor Booker's foot. Booker didn't give Leonard appropriate room to land as NBA rules state, but the refs simply missed the call.
https://vine.co/v/eLM9BqlZehL/embed
It was unfortunate timing for Leonard, who looked as if he was starting to work his way out of the slump. He hit the jumper against Booker, but more impressively, he was active on the defensive end with a steal and a block at the rim. He also airballed his first 3-point attempt but clearly made more of an effort to effect the game in other ways.
It should have been a sign that this ankle injury was more sever than most. Leonard had the same thing happen to him in the Blazers' first preseason game but he shook it off and returned to play in that game. When the Blazers immediately announced he wouldn't be back, it was a sign that things weren't good.
Leonard has struggled to start the season, especially from the perimeter where he's started 2-of-18 on 3-pointers. Leonard is averaging six points and five rebounds per game through the first 5 games of the season.
Leonard shot 42 percent on 3-pointers last season as well as 50 percent from the field and over 90 percent from the line. He had the NBA's only 50-40-90 season last year although he didn't qualify to join the official "50-40-90" club because he didn't have enough attempts.
We'll have more on Leonard's injury when we get more info, which will presumably be available at the conclusion of Wednesday's game.