The Scouting Report: at Utah Jazz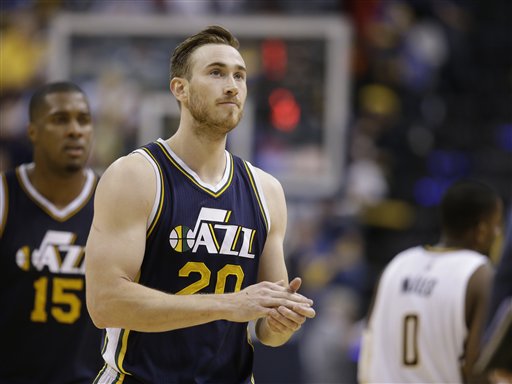 Projected starting line-up: Raul Neto, Rodney Hood, Gordon Hayward, Derrick Favors, Rudy Gobert
New additions:  Neto, Tibor Pleiss, health for Alec Burks, Jeff Withey
Major injury: Dante Exum torn ACL in August
Despite losing the No. 5 pick in the 2014 draft and their starting point guard since the All-Star break last season Dante Exum, the Utah Jazz still entered the 2015-16 regular season with playoff expectations.
They opened the season with a close road loss against the Detroit Pistons, who've started the season 3-0. They bounced back with wins against the 76ers and the Indiana Pacers, both winless teams.
The Jazz gave everybody the okie-doke during the regular season, waiting until opening night to show off what has been their regular season starting line-up with Neto and Hood instead of Burke and Burks.
For the second game in a row, the Blazers will have a major height disadvantage on the wings. Al-Farouq Aminu bothered Gordon Hayward in the preseason but CJ McCollum is giving up 4 or 5 inches against Rodney Hood one night after having to guard Andrew Wiggins.
Neto is a pass first point guard, a 23-year old rookie from Brazil. He is a caretaker point guard with the starters, which is a much better fit for Utah's starting line-up. Both he and Trey Burke are giving up a lot of height at the point guard spot but Burke is more of a shooter, taking away from Hood and Hayward.
They've bounced back with two road wins and Wednesday will be their home opener. The Blazers got a win against them in Salt Lake City without Lillard but this contest figures to be a much tougher one.
The Jazz have maintained their league-best defensive rating since the All-Star break last season through the first three games of the season. Offense has been more of a struggle for the Blazers so far this season than their defense, which plays into Utah's biggest strength. They have playmakers, but the spacing can sometimes get clogged with two traditional big men.
Considering that Utah plays a more conventional style, Portland needs Meyers Leonard's 3-point shot to come alive to force Utah to get away from there game. Gobert will still be in the middle but Favors is a threat around the basket as well. If Leonard's shot doesn't fall and can't pull a big away from the basket, we could see Portland go small like they did down the stretch vs. Minnesota. With Leonard struggling, Stotts showed no hesitation in going small.
Portland will have the clear advantage at point guard but the Blazers have a battle at every other position Wednesday.