The Scouting Report: at Minnesota Timberwolves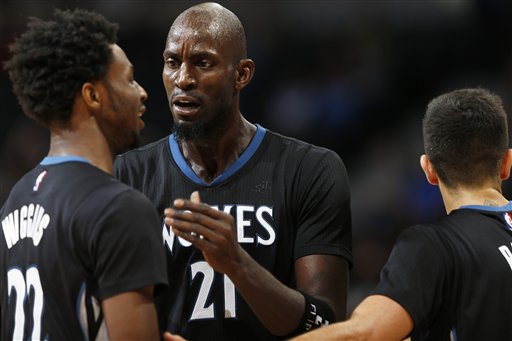 Projected starting line-up: Ricky Rubio, Andrew Wiggins, Tayshaun Prince, Kevin Garnett, Karl-Anthony Towns
New additions: Towns via draft, Nemanja Bjelica
The Minnesota Timberwolves have gone 2-0 on the road to start the season following the passing of President of Basketball Operations and head coach Flip Saunders. Monday will be the Timberwolves' first home game since Saunders' passing and there should not be any shortage of tributes there, where he played major part, along with Kevin Garnett and Kevin McHale, in reshaping basketball in Minnesota.
The team that Saunders built and leaves behind is one that is filled with promise and one that should one day be a competitor in the West. The acquisition of Andrew Wiggins for Kevin Love changed the franchise forever and they drafted another franchise building block in Karl-Anthony (aka Carlos Antonio) Towns.
Towns has been a monster and probably the biggest reason that the Timberwolves have gotten off to the start that they have. Through two games he's averaging 21 points, 13 rebounds and two blocks while shooting 59 percent from the field. He had a monstrous performance Friday with 28 points, 14 rebounds, 4 blocks and two assists against the Nuggets. The first time I saw Towns at a Nike Hoop Summit practice in 2012, I wrote down in my notes "Karl Towns have it all," and I've never had to update that note. I'm honestly not sure what he can't do. Here's a taste of what you'll see tonight.
[youtube http://www.youtube.com/watch?v=aysRv4Ib7R4]
Ricky Rubio is healthy, which is something he's struggled with throughout his career. He also shot the ball very well from the outside against the Lakers on opening night. He's always been a great distributor, but having other teams respect his scoring has been a long-time hole in Rubio's game. If Rubio can keep up that shooting for a whole season, the Wolves might be trouble in the West.
And if the Wolves are trouble in the West, then that means its going to be an even deeper conference than we originally thought. People are expecting the Wolves to be very good, but not this year. They beat two non-playoff teams but road wins for a young team are worth something, at least in my book.
Wiggins is going to be a tough match-up for Portland tonight at the two-guard position. He's 6-foot-8 against CJ McCollum who is measured at 6-foot-4. I expect we'll see a lot of Wiggins trying to get into the post and the Blazers need to be ready for that. The Wolves loved going to Wiggins in the post last year and I think we'll see that tonight.
Serbian newcomer Nemanja Bjelica is starting the season as the Wolves' sixth man. And then they have scoring and free-throw drawing machine Kevin Martin coming off the bench. Shabazz Muhammad had a nice season last year but is off to a slow start. He is another guard who likes to post-up.
The Wolves have a lot of young talent and while it's not conventional compared to the rest of the league, they know what they're going to go to. Towns is going to be a test for anyone who takes him. We even saw Noah Vonleh check him in the summer. Mason Plumlee and Kevin Garnett will be getting on like they used to in Brooklyn.
Portland's best weapon tonight may be going small. The Wolves will have the emotions of the night and the momentum going in, which all makes it a slightly difficult place to try and get your mojo back if you're the Blazers.