Lillard scores 34 points in Blazers 106-101 comeback win over Wolves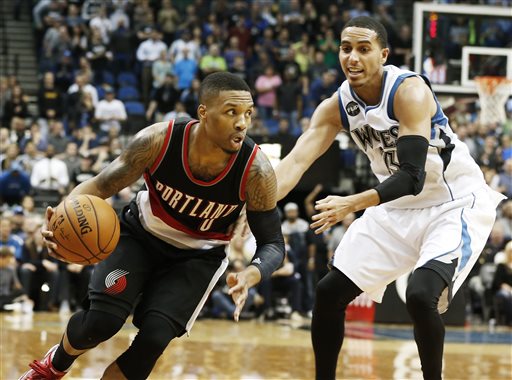 The Portland Trail Blazers came back from 17 points down to defeat the Minnesota Timberwolves for their first road win of the season 106-101. Damian Lillard scored 34 points, seven assists and two steals in 38 minutes.
This game looked like it was going to be another chapter in a storybook start to the season for the Timberwolves. It ended with the crowd booing the referees and the Blazers exiting the court, having mustered a comeback but also stealing a win.
The Timberwolves started off with much more energy than the Blazers following the emotional tribute to Flip Saunders. The Blazers took a brief 1-0 lead but it was all Wolves after that, pushing up a lead that got as high as 17. Portland's offense struggled early to get anything going outside of Lillard.
The Wolves' starters keyed their great start but it was sustained by their bench. Gorgui Dieng was too physical for Ed Davis in the paint, getting deep post position. Kevin Martin scored 11 points in the first half and was his efficient scoring self.
But in the second quarter, the Blazers started to dig in defensively. Lillard got a couple of steals towards the end of the first quarter against Zach LaVine and the Blazers defense continued to take away the easy baskets.
CJ McCollum and Al-Farouq Aminu both took their turns guarding Andrew Wiggins. Both played their part in holding him to a 5-for-17 night and McCollum guarded him on one of Minnesota's final plays diagramed to get Wiggins in the post. The Wolves started going to Wiggins more in the second half but also didn't play him much. McCollum got in foul trouble and it limited his time on the floor.
Aminu also had five fouls in the fourth quarter but the Blazers survived foul trouble to their second and third best players so far this season. Aminu continued his productive start to the season with 17 points and nine rebounds while continuing his solid shooting from long range.
Foul trouble caused some issues for Karl-Anthony Towns only playing 27 minutes. Towns has been a major reason that the Wolves won their first two games of the season. Then Wiggins only played 24 minutes but had no such foul trouble to speak of. Wiggins' absence definitely made the least sense, even with Martin having a good night.
Portland's offense struggled early on. The Mason Plumlee-as-playmaker experience has gotten much worse after an encouraging opening performance. Plumlee committed six turnovers against the Wolves.  He tried to make passes that weren't there and lost his dribble too many times.
Plumlee's playmaking struggles were minimized by Lillard's excellence. He constantly demanded the attention of the Wolves defense and continued his improved playmaking. After tonight he's averaging eight assists per game to go along with 25.5 points per game.
It looked like the Wolves were going to make a big play at the very end to get the win on an emotional night. Andrew Wiggins had what looked to be a tip-in to tie the game which was called basket interference and confirmed by the review officials. It looked like it may have been off the rim but still above the cylinder which made it a tough call for Replay Center to call, which took a solid 3 minutes.
Portland went up by 3 after a free-throw by Plumlee when Towns was called for a foul on the jumpball when both players were clearly holding each other.  Allen Crabbe, part of the small line-up the Blazers closed with stripped Martin before he had a chance to tie the game to seal the win.
Other notes:
The Blazers/CSNNW broadcast showed only a portion of the Timberwolves tribute to Flip Saunders before the game. Here is part of the in-arena tribute to Saunders.
Stotts deserves props for going small down the stretch, something I thought we might see against a much bigger Minnesota line-up. He went with Aminu at power forward with Plumlee at center, Crabbe, McCollum and Lillard. The Wolves eventually had to take out Kevin Garnett to try and match-up.
Meyers Leonard's struggles still continue. He's now 2-for-17 from long range in through the first four games of the season. Leonard grabbed seven rebounds in 24 minutes but was 0-for-4 from 3. It's been a boost for Portland that while Leonard has struggled, Aminu's 3-point shooting has abnormally good by his standards shooting 7-for-15 in the first four games from deep.
Portland's bench big men have also been playing well. Ed Davis had 11 rebounds off the bench again, fighting down low even though he was giving up a lot of weight to Gorgui Dieng. Noah Vonleh probably had his best stretch of play this season in the fourth quarter by using his mobility on defense and grabbing rebounds.
The Blazers go to Utah on Wednesday to face the Jazz and their NBA-best defense since the All-Star break. Considering the night and the hot start, Monday's win didn't look very likely. Utah is better and will require a much better effort and probably a better start.