Trail Mix: Al-Farouq Aminu probable, ESPN says Blazers most underrated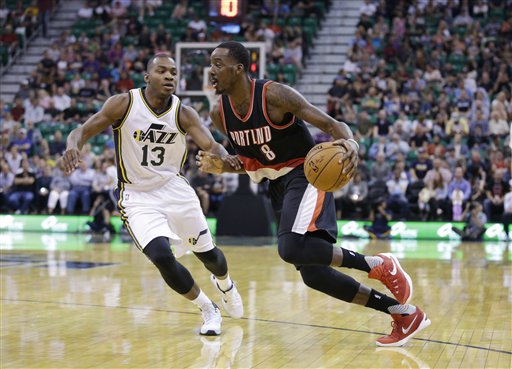 The Portland Trail Blazers start their season tomorrow evening at the Moda Center against the New Orleans Pelicans. And their most expensive free-agent acquisition is healthy just in time. Al-Farouq Aminu is now considered probable for Wednesday as is his back-up Moe Harkless, according to head coach Terry Stotts.
Aminu started in the games he played in at small forward during the preseason. Harkless usually served as his back-up in those occasions.
Big man Cliff Alexander is considered doubtful for Wednesday while veteran swingman Gerald Henderson is out as he continues to recover from a hip debridement.
The NBA season starts tonight, but the Blazers season doesn't begin until tomorrow night. The final thoughts of the season preview variety went up in the last few days and of course, there is division in the previewsphere on how good the Blazers will be.
ESPN's Kevin Pelton writes that–using ESPN's Real Plus-Minus–that the Blazers have the greatest disparity between their RPM projections and their Las Vegas Westgate Superbook over/under win total of 26.5.
No team has a better discrepancy between its RPM projection and its over-under line at the Westgate Las Vegas SuperBook than the Blazers, who are projected to win approximately 13 more games than the 27.5 Vegas foresees (complete RPM projections are at the bottom of this article). Again, there's remarkable consistency in the Portland forecast across a variety of projections.
Real Plus-Minus projects Al-Farouq Aminu to be a significant upgrade to Nicolas Batum and CJ McCollum an upgrade to Wesley Matthews. The team still rates below last year's squad, because of the loss of Aldridge. Still most need to see the production to believe it.
On the other end of the previews, famous NBA fan and writer Bill Simmons who is now with HBO, released the Western Conference edition of his NBA over-under picks with Joe House. Both Simmons and House took the under.
They get to Portland at the end of the podcast with 5:20 left in the podcast.
[soundcloud url="https://api.soundcloud.com/tracks/230263624″ params="auto_play=false&hide_related=false&show_comments=true&show_user=true&show_reposts=false&visual=true" width="100%" height="450″ iframe="true" /]
Meyers Leonard–as we mentioned in our five questions about the Blazers–is a candidate for a contract extension. According to multiple reports, Leonard's representation and Blazers President of Basketball Operations Neil Olshey have not yet had negotiations and will begin negotiating on the extension late this month. The deadline to come to an agreement on an extension is Nov. 2.
Joe Freeman of The Oregonian writes
"I really, really like and love this city," Leonard said. "I love the organization and now that a greater opportunity has presented itself, I think a lot more people are embracing me. I'd love to be here. That's my hope. But I don't know if I'll get an extension. I don't know what will happen after this year. We'll have to wait and see."

At the moment, the sides are in the final throes of wait-and-see mode. President of Basketball Operations Neil Olshey has said he will begin negotiations with Leonard's agent, Aaron Mintz, late this month, and the sides have maintained public silence throughout training camp.
The tactic does allow both sides to see how he performs in the first three regular season games. Moe Harkless is also eligible for an extension, but that seems unlikely.