Pyramid Brewing and Blazers release "Reigning 3's" White Pale Ale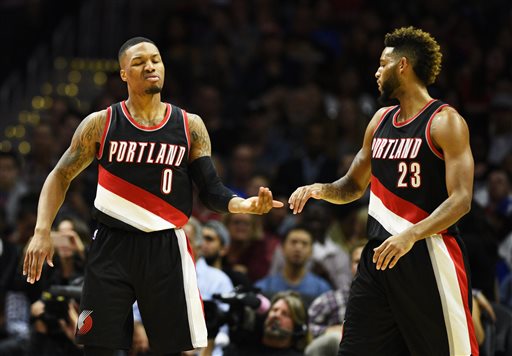 The Portland Trail Blazers and Pyramid Brewing have teamed up yet again to make another Blazers-themed brew for the new NBA season.  This year's Blazers beer release is the "Reigning 3's" unfiltered White Pale Ale in honor of the Blazers starting frontcourt, Mason Plumlee and Meyers Leonard. The beer is made with "Cascade, Apollo and Lemon Drop hops," which are apparently very in demand.

However, the beer-maker says that the beer will have "limited availability" and you'll have to travel "Rip City" to get your hands on it.
They will be serving the beer on-tap at all Blazers home games and 22 oz. bottles will also be available for purchase on the premises. It doesn't appear as though you will be able to buy the beer in stores, but the brewery promises that it will be available in "bars and restaurants" around Oregon and Southwest Washington.
The partnership will also result in a $10 donation from Pyramid to the Oregon Food Bank for every made 3-pointer by the Blazers this season.
Last season the Blazers and Pyramid came together to make "The Schonz" red session ale, in honor of legendary Blazers broadcaster Bill Schonley.
Full release from Pyramid Brewing:
Portland, OR (October 26, 2015) – There are few plays in basketball more exciting or momentum-shifting than the three-point shot. Taking inspiration from the game, Pyramid Breweries recently teamed up with the Portland Trail Blazers to create its newest, limited-edition beer – Reigning 3's. This unfiltered White Pale Ale is Pyramid's take on its own 3-pointer – using a combination of Cascade, Apollo and Lemon Drop hops. With 5.5% ABV, this beer rates 30 on the IBU scale. Due to limited availability fans will have to travel to "Rip City" to get a shot of this brew.

"Lemon Drop hops are in high demand right now," said Ryan Pappe, head brewer, Pyramid Breweries. "We used it along with Cascade and Apollo, then added real lemon peel to create a bold and citrusy flavor that we think matches the team and the city of Portland."

"Guests at Moda Center and Rose Quarter have come to enjoy the best craft beers in the Pacific Northwest, and we're proud to again offer a very special brew in Reigning 3's," said Adam Cook, Vice President and General Manager of the Rose Quarter and Moda Center, home court of the Trail Blazers.  "Pyramid Breweries has been an excellent partner of the Rose Quarter, and we're thrilled to continue that support for our fans and our team by showcasing one of their best craft beers at all of our world-class events."

Pyramid also will capture the excitement of the 3-ball on the court by making a $10 donation to the Oregon Food Bank for every 3-point shot the Trail Blazers make during the 2015- 2016 season.

"Being able to make a great beer, while giving back is an amazing feeling – we're excited for fans to enjoy it all season long," Pappe added.

Reigning 3s is the second beer Pyramid created for launch with the Trail Blazers. During the 2014-2015 season, the limited-edition Schonz' Red Session Ale saluted the "Mayor of Rip City", Bill Schonely.

Reigning 3s will be available on draft and in 22oz. bottles at the Moda Center and Rose Quarter, and at bars and restaurants around Oregon and Southwest Washington.

Visit Pyramid Breweries for more information or join the conversation on Twitter, Facebook or Instagram. To find Pyramid beers, use the global pint seeker.

About Pyramid Brewing Co.
Based in the Pacific Northwest, Pyramid Breweries, Inc. began as Hart Brewing in 1984 and launched the flagship brand of Pyramid Ales. In 1996, the company was reborn as Pyramid Breweries and currently offers craft beers produced under the Pyramid family of ales and lagers. With breweries in Seattle, WA and Portland, OR, Pyramid also owns Alehouses at both locations and an additional Alehouse in Walnut Creek, CA.

Pyramid brewers have earned 17 medals at the Great American Beer Festival (GABF), including the honor of Mid-size Brewery of the Year in 2008. The brewery also has been awarded seven medals in international competition at the World Beer Cup.

For more information about Pyramid Breweries visit, www.PyramidBrew.com.

About the Portland Trail Blazers

Members of the National Basketball Association (NBA), the Portland Trail Blazers were founded in 1970 and purchased by Paul G. Allen in 1988. The team's rich heritage includes 31 playoff appearances, three trips to the NBA Finals, an NBA championship in 1977 and a commitment to community service and sustainability. With a corporate mission to make it better in the community, the Trail Blazers strive to help children and their families throughout Oregon and Southwest Washington live, learn and play. The Trail Blazers are the first and only professional sports franchise to receive the prestigious National Points of Light Award for excellence in corporate and community service. The Trail Blazers home arena, the Moda Center, earned LEED Gold Recertification in 2015 after becoming the first existing professional sports venue in the world to receive LEED Gold status in 2010. The team is also one of the founding members of the Green Sports Alliance. For more information, visit www.trailblazers.com.