Blazers F Al-Farouq Aminu (hamstring) status unclear for opener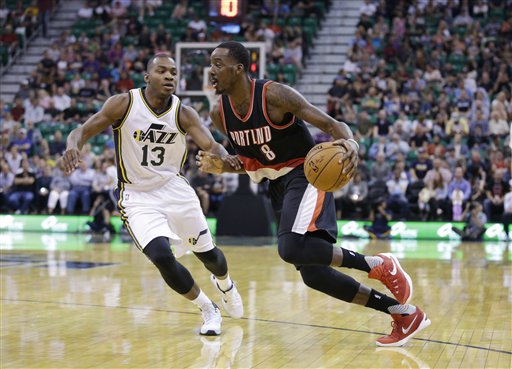 Portland Trail Blazers forward Al-Farouq Aminu's status for Wednesday night's season opener is up in the air.
Aminu did not practice with the team Monday as they began preparation for their first game of the season, Wednesday against the New Orleans Pelicans. They could very well be without their starting small forward.
"I'm not sure whether he'll play Wednesday or not," head coach Terry Stotts told reporters Monday.
He did some shooting after practice and did some shooting with movement for about five minutes after the practice. Aminu said that he did not want to rule out the possibility of coming back on opening night, but he didn't seem very confident that it was going to happen.
"(It is) just limited, it hasn't opened up the whole way that I would want it to," Aminu said of the left hamstring.  "It restricts me from doing certain things, which you would never want. As long as it doesn't restrict me from doing anything, by that time I'll be able to go back."
Aminu was asked how he would describe the feeling about his status for the opener being uncertain, given that it is the first chance he will get to play a major role for one of his teams.
"Devastating, man," Aminu said.  "Devastating."
Aminu was asked multiple times about whether sitting out the opener is a precaution, but he disagreed with that notion. He has been able to workout but is simply limited because of the injury. There is no caution, it's just that he simply can't do what's needed to play in an NBA game right now. It's not the type of thing he can just fight through to play on opening night.
"It's one thing if I'm hurt and I push to go back, maybe, maybe not. It's not even that," Aminu said.
Aminu said at first he thought the injury was a contusion but after it was unable to loosen up, he realized it was something a little more serious.
In the event that Aminu doesn't play, which at this point looks likely, the Blazers would probably go with Moe Harkless at the starting small forward spot, where he started a handful of preseason games.