Practice notes: Blazers remember Flip Saunders, Harkless says he'll be back for opener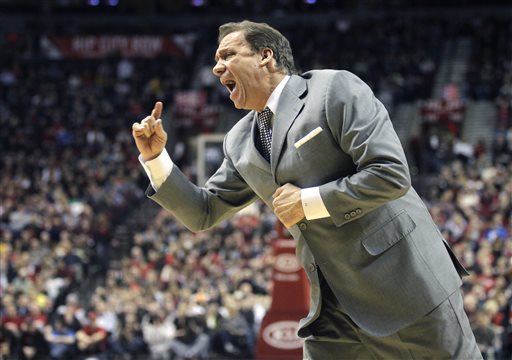 Influential NBA coach and executive Flip Saunders lost his battle with cancer Sunday at the age of 60. Saunders had nearly 700 NBA victories and had over 1,000 career wins as a coach. The basketball community had an outpouring of respect and admiration for Saunders, a testament of how many people in the league that he touched.
At the start of his availability with the media and before answering any questions, Portland Trail Blazers head coach Terry Stotts shared his memories of Saunders and, his sadness. Stotts started his coaching career in the Continental Basketball Association as an assistant where Saunders was a coaching legend, with two CBA championships while coaching the La Crosse Catbirds and two Coach of The Year Awards.
"First I just want to say about Flip, how sad we all are," Stotts said. "It's surprisingly sad news. You just don't know. Flip and I go back to CBA days 25 years ago. He's a terrific coach, terrific person and the NBA is going to miss him."
Blazers President of Basketball Operations Neil Olshey released a statement on Saunders' passing.
"We are deeply saddened to hear of the passing of Flip Saunders," Olshey said. "He was an outstanding coach and executive whose actions did credit to the organizations he served. He will be missed by all who were fortunate enough to consider him a colleague. Our thoughts and prayers are with his family, friends and the Minnesota Timberwolves organization."
Saunders began his NBA coaching career in the winter of 1995, Kevin Garnett's rookie season. He coached four teams to the Conference Finals, three times with Detroit and once with the Timberwolves. He coached the Timberwolves to an unprecedented eight straight playoff appearances.
Harkless (ankle) says he'll be back
The Blazers didn't do a whole lot today at practice. After a meeting, they did "a lot of shooting" and had a health and performance day. It was a light day, but forward Moe Harkless is confident that he will play in Wednesday's opener against the Pelicans.
"It feels good," Harkless said. "If there was a game today I would play."
Harkless said that the ankle injury still "hurts a little bit" but that there was never any swelling in the ankle. He said that the injury was a little odd.
"It was just weird, I was going to like dig in the post and my foot just rolled," Harkless said. "I didn't step on anyone's foot or anything."
The Blazers will presumably get back to full practices tomorrow after which we'll probably know more about Al-Farouq Aminu and perhaps, Gerald Henderson and Cliff Alexander.