Blazers cut Phil Pressey and Omari Johnson, roster at 15 players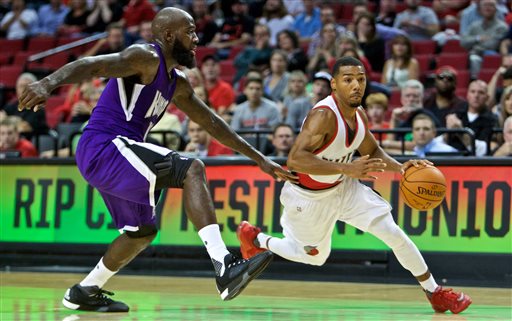 The Portland Trail Blazers have trimmed their roster down to the league-mandated 15 players for the regular season, waiving point guard Phil Pressey and power forward Omari Johnson.
Pressey was in a camp battle with point guard Tim Frazier, but it appears that the Portland episodes of the Tim Frazier Chronicles will continue. Pressey nor Frazier played in the team's preseason finale last night in Los Angeles. Pressey played in four games, averaging 4.8 points and two assists.
Frazier lost the battle for a point guard spot last season in Boston to Pressey. Frazier–who came in to camp as a struggling jump shooter–shot 4-of-6 from long range in the four games he played while averaging 2.5 assists per game.
Omari Johnson, the former Oregon State Beavers player, also played in four games, averaging 2.3 points and one rebound.
Of course, the bad news for those two players means good news for Frazier, Cliff Alexander and Luis Montero.
Alexander missed the entire preseason with a bone bruise in his left knee, but he hopes to be back to doing full contact drills next week after finally getting back on the court earlier this week. Stotts had said prior to the roster cuts that the injury to Alexander hadn't affected his chances of making the team. Alexander, a former top-five high school recruit in 2014, went undrafted in June's draft.
Montero played in only two preseason games so far this season. He's a project in the rawest sense of the word. The Blazers have given indications to Montero's camp that they want to see where his game is in a year, according to league source. His 6-7 frame, long wing span and skills with the basketball have made him a project worth investing in for the time being. The Blazers, it appears, want to see what their player development staff can do with Montero's raw skills.
He could stand to pack on some weight but his number one concern is going to be learning the NBA game and figuring out where he can fit.
Montero has come a long way since the Blazers signed him in the summer and he's still just finding his way after not even playing organized basketball in 2014-15 after playing Community College ball in 2013-14. Now he's on the Blazers opening day roster.