Trail Mix: Sports Illustrated NBA preview ranks Blazers last in the West, Aldridge addresses Lillard relationship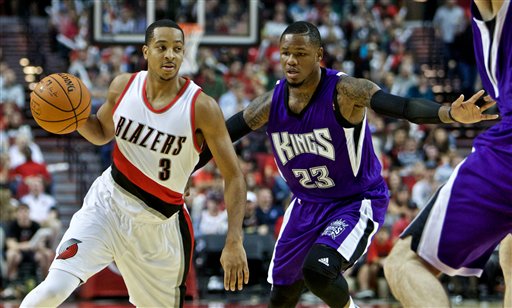 Sports Illustrated's NBA Preview issue is in stores now. They gave their championship picks for both conferences as well as their Finals winner, including fun things like watchability rankings from friend of the blog Ben Golliver. But there was also a good amount of Blazers news and analysis in the preview.
In their Western Conference standings–which also includes scouting reports the Blazers came in last place in the West, which is not yet available on their website. It is however available if you purchase a copy or are a subscriber, which you should be, because Sports Illustrated is still fantastic.
SI's Rob Mahoney's suggestion for the Blazers? Dedicate time to little-used prospects like Noah Vonleh and Moe Harkless.
From Mahoney:
"Among the new acquisitions are a pair of young power forwards who combined for less than 1,000 minutes in 2014-15 and should now get all the time they need to establish themselves––or not."
The rankings in the magazine also come with analysis from anonymous NBA scouts which you can find right here.
Not all previews are created equal, however. Golliver pegged the Blazers to finish third in the Northwest Division, which seems a little more likely than a last-place finish in the West behind the likes of the Lakers and Timberwolves which appears in the print issue.
An incredibly busy off-season will prompt a host of "Who is that guy?" queries at the start of the season, but it won't take long for observers to realize that the new-look Blazers lead the league in friskiness. Not only did Portland lose four of its five starters from last season, but it parted ways with 10 of its 11 oldest players from 2014–15. Blazers GM Neil Olshey traded experienced legs for bouncy ones, accumulating a host of young athletes to flank Lillard, the team's All-Star centerpiece.

Right now, the intrigue outweighs the certainty. Center Mason Plumlee is affordable and mobile, but he is capable of handling full-time starting duties at both ends? Has Meyers Leonard, one of the league's purest shooting stretch bigs, made sufficient progress from an awareness standpoint to handle big minutes? How far away is 2014 lottery pick Noah Vonleh? Is Ed Davis capable of a breakout year after bouncing around for five seasons? Will Al-Farouq Aminu grow from being a quality stopper into a legit 3-and-D wing? Is C.J. McCollum poised to launch himself into the Most Improved Player discussion like many expect?
Golliver goes on to discuss those questions as well as best and worse case scenarios.
Another reason you should get the Sports Illustrated NBA Preview issue is, Chris Mannix's cover story on LaMarcus Aldridge. In it, for the first time, Aldridge discussed the oft-discussed dynamic between he and point guard Damian Lillard.
Here's what Aldridge told Mannix about his relationship with Lillard:
"The issue you have with two competitive guys being brought up the same is that you don't have one person who goes out of his way to make a relationship," says Aldridge.
Aldridge also discussed the situation in Portland how much they did to try to keep him. But I won't spoil that for you, be sure to check out Mannix's story in Sports Illustrated or when it becomes available on their website.
The Blazers are in Los Angeles before they play their final preseason game against the Clippers.
Yesterday, they had a team boxing workout. And it wasn't just the players, everybody from video coordinators to coach Terry Stotts wrapped their fists for the workout.
After the Blazers final preseason game Thursday, roster cuts will likely be coming. NBA teams have until next Monday to set their final rosters for the regular season.