Trail Mix: ESPN projects Blazers 11th in Western Conference, injury update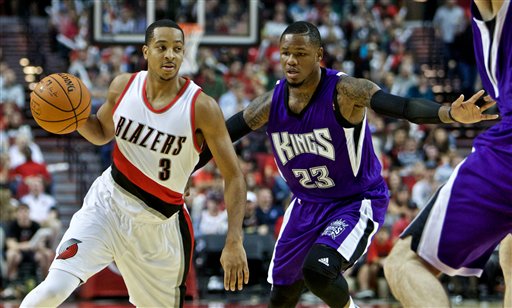 The Portland Trail Blazers were picked to finish 11th in the Western Conference in the ESPN.com NBA preview. If you haven't checked it out already, their NBA team previews as well as the player profiles have been well worth the insider subscription. The team previews are great from a content standpoint and they have a great layout.
The analytics like this Blazers team. ESPN insider's Kevin Pelton said that he thinks CJ McCollum could be a legitimate candidate for the Most Improved Player award. The preview reflects the love in the advanced stats. It also has real plus-minus projections for Portland's starting line-ups.
Here are the real plus-minus projections from the ESPN Insider preview.
Projected Real Plus-Minus for starters
Damian Lillard, PG: +4.0
C.J. McCollum, SG: +2.6
Al-Farouq Aminu, SF: +1.8
Meyers Leonard, PF: -2.1
Mason Plumlee, C: –1.8
Definitely check out the entire preview with analysis from Pelton and shot charts from Chart God Kirk Goldsberry.
Al-Farouq Aminu questionable, Kobe Bryant, Lou Williams out Monday
The Blazers listed small forward Al-Farouq Aminu questionable for Monday's game vs. the Los Angeles Lakers, as he deals with a left hamstring strain. Aminu was held out of Sunday's win over the Utah Jazz after feeling some discomfort before the game. The Lakers' Kobe Bryant and Lou Williams will miss Monday night's game.