Blazers notebook: Stotts says Odom news "concerning," Gerald Henderson does 5-on-0 work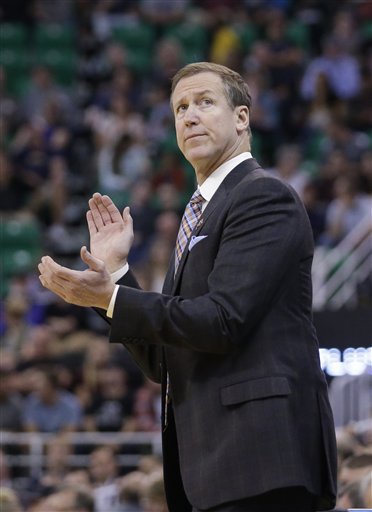 Former two-time NBA Champion Lamar Odom remains in critical condition after being found unconscious in a Nevada brothel. Portland Trail Blazers head coach Terry Stotts expressed his concerns over the news that Odom–whom he coached in the 2011-12 season in Dallas–is fighting for his life.
"Well, it's very concerning," Stotts said. "I really enjoyed my time with Lamar in Dallas. He's a good guy. Just hope the best for him. It's very concerning, really."
NBA players have voiced their concern both in the media and via social media for Odom. Kobe Bryant reportedly left the Lakers game on Tuesday in Las Vegas to go visit Odom at a nearby hospital.
For further reading on Odom and the tragedies that he has endured in his life, check out this Lee Jenkins profile on him from 2009.
Gerald Henderson gearing up
Portland Trail Blazers swingman Gerald Henderson dressed in a practice jersey and shorts, a change from how he had been involved. He participated in 5-on-0 drills with fellow injured player Cliff Alexander as well as Luis Montero, Pat Connaughton and Omari Johnson.
When asked about what Henderson was doing, Stotts said that him doing 5-on-0 stuff was the extent of what he was doing.
Tightening the rotation?
Stotts was asked whether he anticipates shortening the rotation in the final preseason games, Stotts said that he still hasn't gotten that far.
"At this point it's hard to say," Stotts said. "Utah game I felt like if it was a game in the fourth quarter we would go try to win a game."
Portland's coach also mentioned that he felt that the Blazers' defense had played well in the opening four games, save for "a quarter here and there."
Stotts mentioned that he wants to make sure that he gets in players he believes will be major contributors for the team in the regular season. The Blazers have four more days until they play Sunday, but they head down to Los Angeles to play the Lakers the very next night.
"With a back-to-back its hard to say, the closer we get to the season we'll probably extend the minutes of the guys that will be playing most of the time," Stotts said.