Reports: Damian Lillard (ankle) OUT Saturday vs. Kings, CJ McCollum to start at PG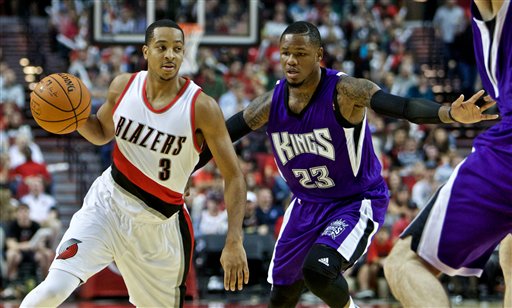 Portland Trail Blazers All-Star point guard Damian Lillard will sit Saturday night's preseason game against the Sacramento Kings with a minor ankle injury, according to multiple reports. CJ McCollum will start in his place at point guard. Reserve forward Moe Harkless will sit for the second game in a row with symptoms from a concussion he suffered on Wednesday. Harkless did not practice Friday in Tualatin.
Lillard suffered the injury towards the end of his shift in Portland's preseason win over Golden State. He said it was a minor injury but the Blazers are cautiously keeping him him out tonight.
From Casey Holdahl of TrailBlazers.com
Trail Blazers point guard Damian Lillard will sit out Saturday's game in Sacramento with a sore left ankle, which he aggravated in Portland's 109-105 overtime loss to the Kings in the preseason opener. The injury wasn't severe enough to sideline Lillard during Portland's 118-101 victory versus the Golden State Warriors Thursday night at the Moda Center, but after tweaking the ankle again in the second half of that game, he and the team's trainers decided it would be best to give the injury time to heal completely.

"It's more precautionary than anything else," said Lillard. "I tweaked it a little bit against (Sacramento) the first game and then last game I tweaked it again. I don't want it to be a lingering thing, something that just keeps going on, so I'm just going to get it 100 percent."
Blazers head coach Terry Stotts talked about looking forward to seeing McCollum and Allen Crabbe, who will start at shooting guard, in expanded roles.
From Mike Richman of The Oregonian 
"It's a good opportunity for CJ to get extended minutes at point and AC is coming off a good game," Stotts said. "We'll probably give some more opportunity to some guys that wouldn't have gotten those minutes."
The Blazers face the Kings Saturday night at 7PM in Sacramento. The game will not be televised locally, like all of the road preseason games. I've been told that preseason games are available to NBA League Pass Broadband subscribers via the GameTime app or online (UPDATE 4:00 PM: according to Casey Holdahl, the Kings are not broadcasting the game locally. It's very possible that the game won't be shown at all). All preseason games are available locally on radio on 620 AM.